Kanye West's Yeezy Season 5 New York Fashion Week Show: Everything we know so far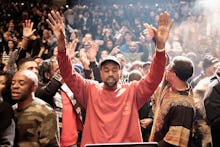 Yeezy Season is, yet again, upon us. 
According to a new report from Fashionista, Kanye West will present Yeezy Season 5, his latest collaboration with Adidas, on Feb. 15 at 5 p.m. during New York Fashion Week. 
And no, don't expect a spectacle like Season 3, which was at Madison Square Garden and had models standing for more than an hour for what really was a backdrop to a concert. 
And don't expect something like Season 4 either, which found West, the Kardashians and hundreds of models schlepping to Roosevelt Island and standing in the sun. 
This time, Yeezy Season 5 will take place in the city's Pier 59 Studios, a more conventional spot for fashion shows and a hop, skip and jump from Milk Studios, where many other NYFW events will be taking place. 
What this more conventional show location could mean is that this collection may be less about the show itself and more about the clothes. After all, Kim Kardashian West has just recently hinted that there could be a Yeezy kids line. 
Or maybe, because of the intense year he's had, what with his own hospitalization and his wife, Kim Kardashian West, getting robbed in Paris, he simply just really didn't feel like dealing with the logistics of sending hundreds of people to an island or an inconvenient location. 
And thank god for that. 
As with anything West does, he's sure to keep us all in the dark until the very last minute, but we'll be sure to update you all accordingly.