'MAFS' star Jamie Otis is fighting the stigma on when women should announce a pregnancy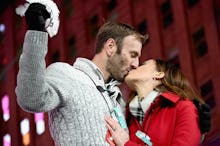 Jamie Otis and Doug Hehner, stars of the FYI series Married at First Sight, have announced that they are expecting a baby. The two have defied convention by sharing their happy news just one month after learning it themselves. 
An early announcement
It's typical for expecting mothers to wait at least three months before announcing their pregnancy, often out of concerns regarding miscarriages or reactions from colleagues and bosses at work. 
But Jamie, a registered nurse and author of Everything I Got Wrong After Finding Mr. Right, did not want to wait. People reported that she decided to share her excitement right away, quoting a source as saying Otis and Hehner "want to empower women to share their good news earlier than the politically correct three-month marker. They want their story to inspire others to not be scared to come out with their news even in the first trimester, and not have society dictate a safe time to make baby announcements."
A bittersweet story 
The news of their pregnancy comes six months after the two shared that they had miscarried their first child, whom they had named Jonathan Edward, in July.  
Otis learned she was pregnant on the day her Jonathan Edward had been due: Dec. 20, 2016. Us Weekly reported that she told her husband by giving him a framed photo with a message that said, "Dear Daddy, my big brother Johnny said he was due to be here with you today, but since he couldn't be, he sent me instead." 
Otis had shared news of the miscarriage and her grief following it on her blog and on social media shortly after it occurred, a choice that sparked criticism from some readers who accused her of capitalizing on the experience. In October, she shared a photo of the baby in honor of Pregnancy and Infant Loss Awareness Month. 
"I really want to desensitize this topic," Otis told ET Online. "I want to show [other women who have miscarried] that they aren't alone, and I want to give them a space where they can share their sweet baby who was taken from the world too early. I hope by me sharing my story and my son, Johnny, it helps women who have gone through similar circumstances or who are going through a loss now."
Married at First Sight 
Defying tradition in search of happiness is nothing new to Otis and Hehner. Otis is a veteran of two other reality TV shows, The Bachelor and Bachelor Pad, and the two met for the first time on their wedding day for the FYI reality series. They were legally married without having previously seen or talked to each other.
The TV show matched people through a team of specialists: sexologist Logan Levkoff, MD; spiritualist Greg Epstein; psychologist Joseph Cilona, MD; and sociologist Pepper Schwartz, MD. Together, the team created what they considered "perfect couples." 
Otis and Hehner are expecting their first child on Aug. 24.