When is the 2017 Puppy Bowl? Air date, channel and more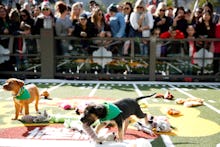 The 2017 Puppy Bowl, an adorable counterpart to the Super Bowl, will take place Feb. 5 at 3 p.m. Eastern. The annual event, which first began in 2005, will air on Animal Planet. 
Adorable athletes 
The Puppy Bowl, whose origins can be traced back to a joke, pits Team Fluff and Team Ruff against each other for the Lombarky Trophy. All the canine competitors come from a shelter or rescue organization. 
The 2016 Puppy Bowl garnered 2.2 million viewers against Super Bowl 50, and its 12-hour marathon attracted a total of 9.3 million viewers. In 2015, 2.8 million people tuned in to the event in its first airing. 
The 13th annual Puppy Bowl will feature 78 puppies that come from 34 rescue organizations in 22 states. Several special-needs dogs will be featured, including Lucky, a three-legged dog, Doobert, a deaf dog and Winston, a sight and hearing-impaired dog. 
Kitty halftime show 
Coinciding with 2017's halftime show, which will star Lady Gaga, the Puppy Bowl will feature a halftime show starring the Chicago Rock Cats performing "Puparazzi." The performance will be led by Kitty Gaga. 
The popularity of pet videos is apparent, as recent reports show more than 2 million cat videos on YouTube that have garnered a collective total of about 25 billion views. Studies have reported positive effects of this viewership, claiming that watching videos of cats provides an online version of pet therapy and even improved their performance at work.