With Trump looming, LA just made it safer for immigrant street vendors to do their jobs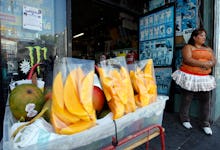 With President Donald Trump poised to deport, as he put it in November, "probably 2 million, it could be even 3 million" undocumented immigrants, the city of Los Angeles is gearing up for a fight. 
This week, city lawmakers took a major step towards protecting one especially vulnerable group — the people who make their living selling foods like fruit, ice cream and "hot dogs wrapped in bacon" on LA sidewalks, the Los Angeles Times reported on Tuesday.
Such vendors had been at risk of facing misdemeanor charges for selling food or other goods on the sidewalk, according to the Times — and for someone who is undocumented, criminal charges come with the threat of possible deportation. But that risk is gone, thanks to new measures from the city's lawmakers.
For years, advocates for immigrants have been pushing for the city to decriminalize street vending, reported the Times, arguing that giving vendors a legal way to do their work would free them from the constant threat of deportation. But it appears it took Trump and his scorched-earth immigration plan to move city lawmakers to action.
Last week, Trump signed executive orders directing immigration officers to prioritize deporting any undocumented immigrants who "have been convicted of any criminal offense; have been charged with any criminal offense," or simply "pose a risk to public safety or national security." 
"[W]e will not abide by his fear, his vilification, his scapegoating of immigrants..." — Los Angeles city councilmember José Huizar 
On Tuesday, seemingly in direct response to those orders, the city council moved forward with a plan to decriminalize street vending and will create rules that will eventually allow for legal permits for vendors.
Los Angeles city councilmember José Huizar told reporters that the move was "a sign to this Trump administration that we will not abide by his fear, his vilification, his scapegoating of immigrants," the Times reported, and a sign to undocumented vendors that "You do not have to work in the shadows."
The city hasn't yet hammered out all the specifics of how the permits will work, but street vendors will no longer face criminal charges for street vending. In a phone call on Wednesday, Michael Kaufman, a staff attorney with the American Civil Liberties Union of Southern California, called the city lawmaker's actions "an enormously important step to ensure that sweet vendors are protected from deportation for doing nothing more than trying to provide for their family."
It's not clear just how many people will be protected from deportation, but Kaufman estimates that "there are thousands, if not tens of thousands of residents in Los Angeles who engage in street vending," and many of them are likely undocumented. 
With Tuesday's actions, Los Angeles just showed that its post-election promise to protect undocumented immigrants from the threats of a Trump presidency weren't just talk.