What songs will Lady Gaga sing at the Super Bowl halftime show?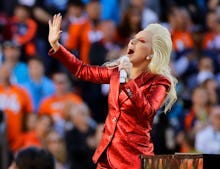 Lady Gaga was superpatriotic as she sang the "Star-Spangled Banner" in a sparkling red pantsuit to usher in Super Bowl 50 last February. This year, the singer will be in Houston to perform at the halftime show as a headliner for the first time. The NFL's annual championship game will air on Fox Sunday, Feb. 5, at 6:30 p.m. 
No official set list has been released, but it is likely that Gaga will be choosing from a lineup of hits to fill a show that could last anywhere from 12 to 13 minutes, based on past performances. Coldplay's halftime gig last year, featuring Beyoncé and Bruno Mars, lasted a little over 13 minutes. Katy Perry's 2015 set, which featured Missy Elliott and Lenny Kravitz, was a little over 12 minutes.
Here are some predictions on the tunes Lady Gaga may sing at the Super Bowl 51 halftime show this Sunday.
"Just Dance"
One song that may get the crowd going in the stadium is the singer's 2008 dance-pop debut single. The song went to number one on the Billboard Hot 100. We can't even begin to imagine the elaborate choreography and costumes Gaga always has on hand for these performances.
"Born This Way"
Gaga's "Born This Way," her popular song about acceptance for all people, may be a perfect song to spread a positive message during a time when many individuals in the United States are feeling attacked over their religion, sexuality and racial identity. 
"Poker Face"  
Another record that has the potential to start a memorable party at Houston's NRG Stadium is "Poker Face." The song is one of Gaga's most popular singles, having went diamond in 2015, according to Billboard.  
"Bad Romance"
The 2009 track "Bad Romance" could be included in a Gaga medley during her halftime set, as its upbeat rhythms contain the perfect ingredients for energizing the crowd. This is also a likely bet after a video of Gaga practicing dance moves from the song in preparation for Sunday made its way online this week.
"Perfect Illusion" 
The previous tracks are from earlier in Gaga's career, but given the national stage that is the Super Bowl, the singer may want to take the opportunity to promote a more recent song. The rock-influenced but still dance-friendly "Perfect Illusion," from Gaga's 2016 album Joanne, would be a good choice.
Mic has ongoing Lady Gaga coverage. Please follow our main Lady Gaga hub here.