Lady Gaga's Super Bowl halftime surprise guests: The 9 singers we'd like to see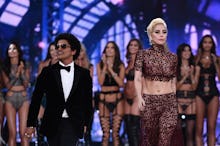 Lady Gaga's Super Bowl halftime show is approaching and we're still guessing as to what Mother Monster will surprise us with during her big performance. 
Lady Gaga confirmed that the roof stunt will be happening during her halftime show, so check that off the list. While she hasn't revealed the songs she will be singing, Gaga is no stranger to collaborating with some of the world's biggest artists, including Bruno Mars and Florence Welch. Lady Gaga has even become both a friend and even a featured artist to some.
Here is our list of the dream surprise guests we hope show up during Lady Gaga's Super Bowl Halftime show.
Madonna
Look, it's probably impossible, but the two did break the internet in 2015 with a group picture they posted on Instagram from the Met Gala. While they have a long history of being shady toward each other, it would be a definitive moment in pop culture if they performed together. Madonna is no stranger to the Super Bowl, so it's not entirely out of the question. How about a possible "Born This Way" and "Express Yourself" mash-up?
Florence Welch
Welch appears on Lady Gaga's most recent album, Joanne, on a duet together called "Hey Girl." The feminist anthem about female empowerment feels appropriate following the radical Women's March that took place last month. 
Tony Bennett
When you think of Lady Gaga you also think of Tony Bennett. The unlikely but successful pairing have made an album together — Cheek to Cheek — and Gaga appeared on Bennett's Duets II — so we'd love to see what these two could possibly do together for the football fans. 
Christina Aguilera
One of Lady Gaga's most memorable and iconic performances is her duet of "Do What U Want" with Christina Aguilera on The Voice in 2013. The pair, who were rumored to have been feuding for a few years, came together for a memorable and show-stopping TV performance. We'd like a part two of this.
Beyoncé
At this point in her career, we're always on Beyoncé watch, and when it comes to the Super Bowl, we simply assume she is on speed dial just in case the NFL needs her. Beyoncé, of course, performed at the Super Bowl in 2013 for her legendary halftime show and returned last year alongside Bruno Mars and Coldplay. We doubt she would show up once again but the two friends do have a few songs together: "Telephone" and the forgotten "Video Phone." However, if she does make another appearance at the Super Bowl, that means the entire world will get an update on her pregnancy!
Kid Cudi and Kanye West
Just as she was exploding early in her career and "Poker Face" was on its way to becoming a massive hit, the song was sampled by Kid Cudi and Kanye West. West and Gaga have a long history, and they were once scheduled to go on tour together, but it was scrapped for no specific reason, so the Super Bowl would be the perfect moment to make up for that.
New Kids on the Block
It's easy to forget that Lady Gaga once toured together with New Kids on the Block. She was even the feature on one of the boy band's songs called "Big Girl Now." They performed it together once, so we're not ruling the group out completely. 
Bruno Mars
While Coldplay may have been the main act of the Super Bowl halftime show last year, Bruno Mars and Beyoncé's surprise appearances stole the show. Mars and Lady Gaga performed at the Victoria's Secret Fashion Show last year and the two of them together would make for a killer live performance. 
Mic has ongoing Lady Gaga coverage. Please follow our main Lady Gaga hub here.