How Trump's SCOTUS nominee, Neil Gorsuch, will change the direction of the Supreme Court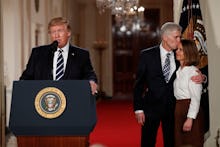 The pick is in: Neil Gorsuch will be Donald Trump's Supreme Court nominee. Republicans love him. Democrats are critical, but have not said they will filibuster the nomination. 
Put simply, Gorsuch believes the law should not be interpreted beyond the words used to write it. Known as a "judicial originalist," Gorsuch shares the beliefs of the conservative Supreme Court justice he is intended to replace. Antonin Scalia was famous for charging that the federal government overreached in a variety of areas, consistently offering some of the most conservative legal interpretations ever seen on the court. Gorsuch would follow in Scalia's footsteps. "I respect ... the fact that in our legal order it is for Congress and not the courts to write new laws," Gorsuch said Tuesday night. He graduated from Harvard Law School the same year as Barack Obama, and at 49, is the youngest justice nominee since George H.W. Bush nominated Clarence Thomas in 1991.
Gorsuch will tip the court back to the right. Since Scalia's death, the Supreme Court has had a split of four liberal and four conservative justices. Given that Republicans, holding the Senate majority, blocked Obama's nominee from even having a hearing, the presidential election was a major decider in the direction of American law. Now, Gorsuch is poised to keep the court leaning right for years.
Here is how Gorsuch would impact seven pending court cases and legal issues the court may consider.
1) Transgender rights. In October, the court agreed to hear a case from Virginia that challenges Obama's guidelines allowing students in public schools to use facilities aligned with the gender they identify with, rather than what they were assigned at birth. With Gorsuch on the court, this presents a chance for the conservative viewpoint to prevail and strike down the federal order. The Human Rights Campaign quickly issued a statement staunchly opposing Gorsuch on behalf of LGBTQ Americans.
2) Police shootings. The court is set to consider a case that stems from police officers in Los Angeles County shooting two homeless people in a shed. While police officers typically have legal immunity for their on-duty actions unless they clearly violate someone's constitutional rights, a lower court decision takes away immunity for use of "excessive force." The court will decide whether to remove that immunity nationally, a major step for groups like Black Lives Matter who want more police accountability. But conservative justices typically side with law enforcement in cases like this, suggesting Gorsuch's vote would preserve immunity.
3) Abortion rights. Given Justice Anthony Kennedy's continued support of the right to abortion outlined in Roe v. Wade, reaffirmed in June when he helped strike down Texas' restrictions on abortion, Gorsuch's presence on the court would be unlikely to easily change abortion law. His stance on abortion is unclear, but his avowed support of religious rights and opposition to euthanasia suggests he is pro-life.
4) Unions. Organized labor, already in decline, may take a fatal blow if Gorsuch is confirmed. Given his record for following Scalia, Trump's nominee would likely pick up where the conservative justice left off in criticizing a law that said public sector employees could be forced to pay for union benefits. Scalia, who expressed that critique when the case came before the court, died before it was decided with a tie in March 2016. If the court hears a similar case, Gorsuch would likely vote to gut public sector unions.
5) Environmental regulations. Key Obama-era environmental protections could be rolled back if Gorsuch is confirmed. In February, the Supreme Court issued a stay on Obama's Clean Power Plan as it continues to be debated in lower courts. Scalia would likely have opposed the regulation if the case came before the court, a line of reasoning Gorsuch will likely follow. But this may end up being resolved elsewhere: On Wednesday, the House plans to vote to gut Obama's signature environmental regulation.
6) Same-sex marriage. When the Supreme Court ruled 5-4 in 2015 that same-sex marriage should be legal, Kennedy was the swing vote, while Scalia opposed legalizing same-sex marriage. If a similar case were to come before the court, Gorsuch could oppose it, but his vote would not change the historic ruling.
7) Contraception. Last May, the court split 4-4 over whether employers must provide health insurance that covers contraceptives, even if birth control is against the religious beliefs of the employer. That left the rule in place. But Gorsuch would likely vote in favor of religious liberty, striking down the contraception provision if other justices vote similarly. Planned Parenthood has already expressed concern over Gorsuch's nomination. 
The repercussions of this pick are major. Gorsuch is a strict constitutionalist with a conservative judicial history. He is poised to make the court deliver rulings that will draw the ire of progressives and reproductive rights advocates while winning praise from conservatives and religious rights supporters.
Politically, this was also an important early move for Trump. He referenced the Supreme Court nomination through the presidential campaign. Many voters said it was the main reason they supported Trump, something the president acknowledged when he announced Gorsuch. 
Don't forget: Scalia was not the only old Supreme Court justice. Trump may have more to appoint. Ruth Bader Ginsburg and Anthony Kennedy are both older than 80. If one or both of them were to be replaced during Trump's administration, the court could become dramatically more conservative.
What politics can we expect around the confirmation fight? Much. Early signs suggest Gorsuch will be confirmed, but that could change. Democrats blocked a committee vote on Jeff Sessions, Trump's pick for attorney general, on Tuesday and didn't show up for committee hearings for two other Cabinet nominees. (Those nominees were voted out of committee to approval before the full Senate on Wednesday after the GOP suspended the rules.) At least one Democratic senator has said he will filibuster any nominee that is not Merrick Garland, the Supreme Court nominee Obama put forward last year who Republicans never considered.
Chuck Schumer, the Democratic leader in the Senate, said he has "serious doubts" about Gorsuch but stopped short of saying he will obstruct the nomination. Gorsuch will need 60 votes to clear the Senate, unless the GOP invokes the "nuclear option" by changing Senate rules to require only a simple majority.
This is Mic's daily read on Donald Trump's America — and how it affects you. Welcome to the political newsletter no one ever considered to replace Antonin Scalia. 
Highlights
•  Today: We have our Supreme Court nominee. Full coverage, including how Neil Gorsuch's vote could impact key pending cases, below. 
•  Why the immigration order still matters: The media focus shifted, but Trump's executive order on immigration is continuing to impact many. We break down the cases.  
•  Breaking this morning: Democrats won't play ball on Trump's treasury and health nominees. So Republicans bypassed them, suspending the rules and voting the nominees out of committee.
•  Even more: The latest on executive orders and confirmation hearings.
•  Trump's agenda today: A Black History Month listening session. SCOTUS meetings. A summit on legislative strategy.
Why the immigration order still matters
Trump's order on immigration continues to upend American society. The implications are widespread and becoming more clear by the day. Though airport protests have largely subsided, how Trump's order is implemented, who it impacts and how it does so must be watched closely.
The legal challenges are mounting. At least 13 lawsuits have been filed against Trump's order across the country, including four on Tuesday. (The city attorney of San Francisco filed a separate lawsuit over Trump's order targeting sanctuary cities.) (ABC) Amazon is taking legal action, and Apple is considering it. Dissatisfaction with the ban continues to grow in the government. As of yesterday afternoon, about 900 State department employees had signed a memo opposing the order. Yet a meeting between Department of Homeland Security Secretary James Kelly and lawmakers Tuesday signaled Trump's administration is happy with the implementation of the order, while Kelly promised to carry out the ban "humanely."
Meanwhile, the order is affecting human lives. A boy burned in an Iraqi refugee camp and his father were given visas last year for treatment in the U.S. The boy's father recently returned to Iraq for the birth of another son, only to learn he cannot return to Boston to be with his son awaiting surgery. 
New polling on the order is mixed. While only a third of Americans believe the ban makes them safer, nearly half support the order, a majority, according to a new Reuters/Ipsos poll. 
The latest on confirmation votes
With chaos in Tuesday's Senate committee votes — only Betsy DeVos, Trump's education secretary nominee, advanced — Republicans bypassed protesting Democrats and voted Trump's nominees for Treasury and Health and Human Services out of committee on Wednesday. (CNN) The move is sure to draw the ire of Democrats, who did not show up for the hearings on Tuesday to prevent the GOP from holding votes that progressives knew they would lose. Senators are also holding a hearing Wednesday on Trump's nominee to run the veterans affairs and Jeff Sessions, the attorney general nominee, will again come up for a vote. He was also delayed Tuesday.
News and insight you cannot miss:
•  Trump was supposed to sign an executive order on cybersecurity on Tuesday. That was postponed, while the White House press secretary indicated the order was not ready for primetime. (USA Today) This comes as the administration has put the brakes on other orders, including an investigation into Trump's false claim that millions of people voted illegally. 
•  Two popular Republican governors in blue states are trying to weather fierce blowback to Trump. How can the GOP leaders walk the line between supporting their president and not angering Democratic voters vehemently opposed to him? (Politico)
•  Here's how long Trump's travel ban will last for each country. (Mic)
•  What the White House is planning in celebration of Black History Month. (Mic)
•  Democratic leaders and progressive organizers are taking heart that opposition and protests against Trump seem to be taking hold. (The Hill) The White House canceled a planned appearance Thursday in Milwaukee over fears of large protests. (New York Times) A new poll shows Democrats plan to up their participation in politics in the wake of Trump's election. (Mic)
•  The Army Corps of Engineers has been ordered by the Trump administration to move the Dakota Access pipeline project forward. That comes less than two months after demonstrators convinced Obama to put the project on hold. (Mic)