Beyoncé debuts new Ivy Park SS17 promo featuring Yara Shahidi, SZA, Selah Marley and more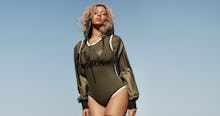 On Wednesday morning, you might have felt the ground beneath you shake and quiver. The air around you might have felt cleaner and clearer. You yourself might have felt lighter and freer. 
And that's because on Wednesday morning, Beyoncé dropped a promo video for the Ivy Park SS17 collection. 
In the video, Queen Bey appears, majestically draped in a light-pink hoodie and, in another shot, in a green one with what looks like a green leotard underneath. 
SZA, the R&B star, also pops up, wearing a green outfit that really does kinda look like a Yeezy original. 
Then there's actress Yara Shahidi, in a big black T-shirt. 
"I love what Ivy Park stands for and how Beyoncé is using this line to highlight the beauty and power of our bodies and spirits," Shahidi said in a recent interview with Vogue. 
Selah Marley, the daughter of Lauryn Hill, makes an appearance, too. 
As do Chloe and Halle, the sister duo Beyonce signed to her record label, Parkwood Entertainment; model Sophie Koella also makes an appearance. 
Throughout the promo, the featured women's different voices speak on the beauty of power, and also the strength of women. 
"Sports are usually only geared toward men, and [it is empowering] simply shining a light on the fact that yes, women play sports and yes, we're also great at what we do," Marley told Vogue. "I love that it highlights that women are capable of anything and we can dominate anywhere we go."
The collection overall appears to have a muted color palette, with lots of greens and browns and blacks and pinks. And, as with her collections before, it's all about activewear, with sports bras and sweatshirts. 
You can check out the entire Ivy Park promo below: