Republicans have a "nuclear option" to stop Supreme Court filibuster. What does that mean?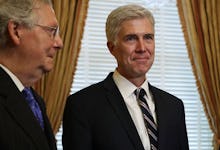 On Tuesday night, President Donald Trump announced he's nominating Judge Neil Gorsuch to the Supreme Court.
After Republican senators refused to consider Merrick Garland, former President Barack Obama's pick to succeed the late Justice Antonin Scalia, many believe that Democrats won't let Gorsuch be confirmed without a fight.
As it stands now, if Democrats filibuster Gorsuch's nomination, the nomination would need 60 votes in order to end the filibuster and confirm Gorsuch. Republicans currently have a slim 52-48 majority.
Republicans, however, do have one way to get Gorsuch on the bench without bipartisan support: using the "nuclear option."
Here's what to know about this last-resort possibility:
What is the "nuclear option?"
According to the Hill, Senate Republicans could change the rules to eliminate the filibuster by lowering the threshold for confirming nominees to a simple majority, rather than 60 votes — a move that would fundamentally change how the Senate conducts itself and allow major government appointments to be made without bipartisan support.
In an essay for the Hill, former Senate staffer and Defending the Filibuster author Richard A. Arenberg described the option as a "controversial parliamentary gimmick." The nuclear option, Arenberg explained, is accomplished by re-interpreting existing Senate laws for ending a filibuster. Vice President Joe Biden once described the option as "a lie about a rule."
The nuclear option, which was given its name by Republican Senator Trent Lott, was strongly considered in 2005 by Republicans hoping to combat a Democratic filibuster against federal judge nominations made by President George W. Bush. The standoff was ultimately solved with a bipartisan agreement made by the so-called "Gang of 14."
In 2013, however, Senate Democrats, who at the time held a 51-49 majority, finally invoked the last-ditch option in response to unprecedented Republican obstruction. The nuclear option, as set in 2013, applies to most federal appointments with the exception of the Supreme Court, and does not apply to legislation.
The New York Times described the 2013 move as "the most fundamental alteration of [the Senate's] rules in more than a generation." Following the invocation of the nuclear option, then-Senate Majority Leader Harry Reid said "adapting the rules to make the Senate work again is just common sense," considering the Republicans' use of stall tactics.
Republicans, however, were incensed over the decision. "We have weakened this body permanently, undermined it for the sake of an incompetent administration," Sen. Pat Roberts said to the Times. "What a tragedy."
Using the nuclear option in 2017
Now that Republicans hold a majority in the Senate, this controversial tactic is now in their favor. It is a scenario that Senate Majority Leader Mitch McConnell (R-Ky.) warned of when Democrats deployed the nuclear option. "I say to my friends on the other side of the aisle, you'll regret this," the Times reported in 2013. "And you may regret it a lot sooner than you think."
While the 2013 decision means a simple majority can be used for most appointments made by President Trump, Republicans now have the option to expand the nuclear option so that it applies to the Supreme Court.
But will they use it? Trump certainly wants them to. 
"If you can, Mitch, go nuclear, because that would be an absolute shame if a man of this quality was caught up in the web," Trump said to reporters on Wednesday when asked about the possibility of a filibuster by Democrats.
Senate Republicans, however, seem to currently be taking a more cautious approach. Though Politico reports that Sen. Ted Cruz (R-Tex.) has advocated for the nuclear option, McConnell has stopped short of committing to use the strategy.
"We need to have a Supreme Court justice and that's going to be our goal. I don't think tactics are what we're talking about now," Sen. Shelley Moore Capito (R-W.Va.), who is close to McConnell, told Politico. "I just don't think we are there discussing it seriously yet."