What is GHB? "Date rape" drug garners attention following Mischa Barton's hospitalization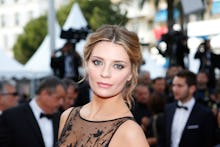 Mischa Barton, who starred as Marissa Cooper on popular teen drama The O.C., says she was hospitalized after being drugged with GHB while celebrating her birthday. 
Following her release from Cedars-Sinai Medical Center in Los Angeles, Barton issued a statement to People detailing her experience:
On the evening of the 25th, I went out with a group of friends to celebrate my birthday. While having drinks, I realized that something was not right as my behavior was becoming erratic and continued to intensify over the next several hours.
GHB, which stands for gamma hydroxybutyric acid, is a depressant that is commonly dissolved in alcoholic beverages. GHB has become known as a "date rape" drug due to its ability to render people unconscious.
Also known as Easy Lay, G, Georgia Home Boy, Goop, Grievous Bodily Harm, Liquid Ecstasy, Liquid X and Scoop, the drug is typically sold as a liquid or white powder. Odorless and slightly salty, GHB won't change the flavor, scent or color of the beverage but can leave victims vulnerable to sexual assault. 
Barton is not the first actress to share her experience of accidentally consuming GHB. Rebel Wilson posted on Twitter about a similar ordeal at a "trendy club." 
GHB's effects 
Low doses of GHB can cause nausea; larger quantities can induce dizziness, blurred vision, memory loss and loss of control over the user's bladder and bowels. Consuming too much or combining GHB with alcohol can cause people to lose consciousness and can even result in death. 
There is currently no antidote available for GHB intoxication, according to SELF. It can leave a user's blood and urine within a few hours of being ingested, which makes proving assault difficult for victims. 
Rise in recreational use 
In addition to its role in committing sexual assault, recreational GHB use has increased due to its popularity in "chemsex" circles. Users claim it has the euphoric effects of alcohol without a hangover, heightening sexual arousal and lowering inhibition. 
Along with becoming increasingly popular, GHB is increasingly dangerous. According to the Daily Beast, 16,000 people have overdosed on GHB since 1990; 70 have died. In London, deaths related to GHB rose by 119% between 2014 and 2015.