Searching for Facebook's customer service can direct you to a scam — here' how to avoid it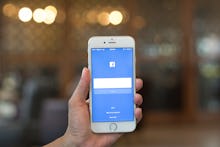 Facebook users looking to get in touch with its customer service ought to abstain from what may feel natural: Googling it.
NPR reported that a seemingly innocuous phrase — "Facebook customer service" — is searched on Google 27,000 times a month. The search delivers a supposed Facebook customer service number. But Facebook does not have a phone line for users to call, so the number that used to pop up until recently is 100% fake.
Not only was the number the top search result on Google, but it also earned a spot in the "featured snippet" area — the highlighted box at the top of the search results page. The number is technically from a page on the official Facebook website, but it is from the "community" Q&A section, where users can ask other users questions and receive answers.
NPR turned to Pindrop, a company in Atlanta specializing in phone fraud, to investigate the number. An employee at Pindrop confirmed that an individual impersonating a Facebook employee would pick up when the number is called. And data suggests the person is located in India.
Under the impression that they were speaking to a distressed Facebook user, the impersonator asked the Facebook user to go to Target or Wal-Mart, buy an iTunes gift card and deliver the 16-digit code on the back of the card. Last year, the Federal Trade Commission warned that the iTunes gift card scam is the newest way for consumers to get conned. Apple issued a statement as well, advising customers to be wary.
Facebook told NPR it has been investigating the number for some time, and Google has since removed the number from its search results. Part of the problem is how "featured snippets" are sourced. According to Google, "the summary is a snippet extracted programmatically from a webpage."
"When we recognize that a query asks a question, we programmatically detect pages that answer the user's question, and display a top result as a featured snippet in the search results," Google wrote. "Like all search results, featured snippets reflect the views or opinion of the site from which we extract the snippet, not that of Google. We are always working to improve our ability to detect the most useful snippet, so the results you see may change over time."
For now, the number has been removed and users are relatively safe. But should users ever stumble upon s number claiming to be Facebook customer service, they should file a complaint with the FTC and head over to Facebook's online help portal for any assistance they need.