'How to Get Away With Murder' Season 3 Spoilers: What will happen in episode 11?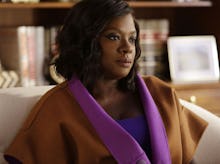 Last week, ABC's TGIT lineup – which includes Grey's Anatomy, Scandal and How To Get Away With Murder – returned with brand new episodes.
How To Get Away With Murder provided us with some answers as to what happened in the chilling winter finale of the hit show starring Viola Davis. The show will air another new episode on Thursday, Feb. 2 and it looks like we're in for another rollercoaster of emotions. 
According to TV Guide, in episode 11, titled "Not Everything's About Annalise," Bonnie makes a visit to Annalise and has some information for her. She lets her know that she is working on getting the charges dropped against her after Frank is arrested for murdering Wes. 
While this is a nice gesture, Annalise has some trouble believing that Bonnie is going to do this for her, since Bonnie couldn't even get her out on bail. Guess we'll have to wait and see. 
With Annalise now serving time behind bars, we're getting a deeper look at her psyche as the season progresses. This episode will show us her daily struggle of dealing with her new surroundings and how being incarcerated tests her sanity.
As this is going down, the Keating 4 are shaken by how deep the DA's investigation has gotten. The Keating 4 are also dealing with the fact that one of their own is dead. 
How to Get Away With Murder airs an all-new episode on ABC on Thursday, Feb. 2 at 10 p.m. Eastern. 
Mic has ongoing coverage of How To Get Away With Murder. Please follow our main How To Get Away With Murder hub here.