'GTA Online' Update: Character transfer option for PS4, Xbox One and PC expires in March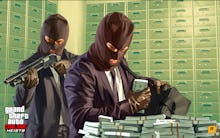 Grand Theft Auto Online is one of the most hilariously chaotic multiplayer games you can play on consoles, and if you want to play the best version of GTA Online possible, your time is running out to transfer your character over to the newer versions of the game.
When GTA Online was first released in October 2013 it was available for PS3 and Xbox 360. The PS4 and Xbox One versions came later — in November 2014 — and the PC version was released in April 2015.
Rockstar Games made sure that people who invested time on the PS3 and Xbox 360 had an opportunity to transfer their characters over to the newer versions of the game. However, your time to take advantage of that opportunity is about to run out.
GTA Online Update: Character transfers to end next month
Rockstar Games delivered the news on Monday about the end of the character transfer program, in one of its regular news posts about the current slate of highlighted activities that generate double GTA$ and Rank Points rewards, and the new discounts available on purchases.
"If you have not yet brought your characters and progression over from PlayStation 3 or Xbox 360 to PlayStation 4, Xbox One or PC time is running out as this will no longer be possible as of March 6th, 2017," the developer announced.
GTA Online Character Transfers: The game looks so much better on PC, PS4 and Xbox One
It goes without saying that a game on a previous-generation console is generally going to look worse than a game on a next-generation console, and that, generally speaking, a PC version of a game is going to look even better. So it should come as no surprise that the difference between GTA Online on PS3/Xbox 360 and PS4/Xbox One is pronounced.
It was easy to test this when the new versions of GTA 5 were released. Transferring a character from one platform to another doesn't actually delete the character on the previous platform. So if you transfer a character from the Xbox 360 version of the game to Xbox One, you'll still have a character on each console. However, progress is not shared between then.
Regardless, having both versions of a character active at the same time made it very easy to compare the graphics between the two versions. When the next-gen versions of GTA Online were released, players tested this by taking a character around the city of Los Santos in the new and old versions of the game. By running both consoles on different inputs, it was possible to switch between them easily.
In the Xbox 360 version of the game, signs or posters on the inside of store windows were blurry. In the Xbox One version of the game, those signs became legible thanks to the clearly superior graphics quality. It may sound like a small thing, but the difference is an apt metaphor for the kinds of visual improvements that the next-gen and PC versions of GTA Online made possible.
If you decide to make a character transfer, Rockstar Games has posted detailed instructions on its support website. Please make sure to read the fine print on limitations for how many times you may transfer a character and set up a Rockstar Games Social Club account if you don't already have one so you can complete the process.
More GTA Online tips and tricks
Check out Mic's GTA Online guides on how to buy Shark Cards, get rich without buying Shark Cards, run an auto theft ring, buy and sell property, increase your strength stat, treat yourself to plastic surgery and how to kill the Insurgent, one of the most powerful vehicles in GTA Online.