Russell Simmons' RushCard and MasterCard must pay $13 million for mishandling people's money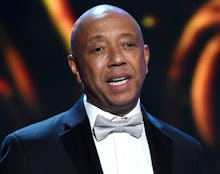 MasterCard and RushCard — the payment processor targeting vulnerable groups launched by the celebrity investor Russell Simmons — have been fined $13 million by the Consumer Financial Protection Bureau. 
The enforcement action is related to a scandal dating back to 2015, when RushCard decided to switch its payments processor over to MasterCard. 
Things did not go well, with tens of thousands of customers losing access to their funds. Since many of RushCard's customers are unbanked, the delay was particularly devastating for some. According to the CFPB, both MasterCard and RushCard should have been better prepared. 
"The preparation was so inadequate it amounted to a violation of law," Deborah Morris, deputy enforcement director for the CFPB, told reporters. "It's how [their customers] pay their bills."
The agency hopes to send a message to financial services companies that target the unbanked, as well as other vulnerable groups.
"We are putting the prepaid industry on notice," said CFPB Director Richard Cordray. 
Most of the money will be used to make restitution to affected customers, who will automatically receive payments ranging from $100 to $250, depending on the type of service disruption customers experienced, Morris said. The agency has not yet said when the deposits will be made.
Though the payments seem small, the action appears to have more to do with the kind of people affected. RushCard advertises itself as a way to access funds up two days before payroll deposits, and the payments it processes include forms of government aid, the CFPB noted in a press release. 
"UniRush and MasterCard betrayed the trust of tens of thousands of consumers who rely on the RushCard to conduct and manage their day-to-day finances," Cordray said in a prepared statement on Wednesday's call. "For many, it is their only way to ... pay for basic living expenses and daily necessities."
The companies will also pay a $3 million civil fine. 
"We understand the critical role prepaid cards play in how people manage their money," a MasterCard spokesman said in an email. "We are pleased to bring this matter to a close."
For his part, Simmons is unlikely to be sweating the news. Just this week, he sold his stake in RushCard to GreenDot for $147 million. 
A representative for GreenDot didn't immediately respond to request for comment. 
Correction: Feb. 1, 2017
Sign up for The Payoff — your weekly crash course on how to live your best financial life. Additionally, for all your burning money questions, check out Mic's credit, savings, career, investing and health care hubs for more information — that pays off.