Joe Biden endorses Tom Perez for DNC chair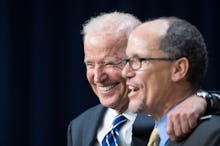 Former Vice President Joe Biden on Wednesday endorsed former Labor Secretary Tom Perez in the race for Democratic National Committee chair, wading into a competitive battle for control of the Democratic Party.
"I've known Tom Perez for a long time. He's a man of integrity and vision. And he knows what it means to be a Democrat — that we are a party that fights for economic fairness for working families and believes that everyone is entitled to be treated with dignity, regardless of who they are, where they come from or who they love," Biden said in a statement endorsing Perez.
Perez faces a handful of candidates in the race for DNC chair, chief among them Rep. Keith Ellison — who is seeking to rally the Bernie Sanders-wing of the Democratic Party around his candidacy, along with a few of its establishment stalwarts.
Biden's endorsement of Perez is a major moment in the contest. Party insiders vote for DNC chair — not average voters. And Biden's seal of approval will go a long way for those insiders who pick the winner.
This is not the first big seal of approval Perez has received.
Former President Barack Obama all but endorsed Perez in December at his final news conference of the year.
"Tom Perez has been, I believe, one of the best secretaries of labor in our history," Obama said.
Ellison, on the other hand, has endorsements from liberal leaders such as Sens. Chuck Schumer and Bernie Sanders.