'Injustice 2' DLC Characters: New roster details coming this week and DLC possibilities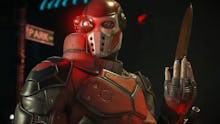 As a handful of lucky players get the chance to stress test Injustice 2 with a closed online beta, the rest of us have to wait for more information about the D.C. Comics fighting game to trickle out. Thanks to GameSpot, we at least know there will be a new character revealed soon.
Injustice 2 DLC characters: Roster reveal coming soon
The new character reveal is coming Thursday, Feb. 2. However, there is no other information, like whether it's a new character or merely a gameplay demonstration of a character from cinematic trailers.
GameSpot makes the point that we haven't seen Bane, Brainiac or Poison Ivy in action despite them all being confirmed for the game. So it could be one of them. Head developer Ed Boon has also teased obscure characters for the game, so it could be someone totally unexpected. Hopefully, we get to play as Ch'p, the squirrel member of the Green Lantern Corps.
Curiously, Green Arrow has not been confirmed or even really hinted at for Injustice 2. Considering he has his own TV show and was in the first game, it would make sense to get him in the fold. 
Injustice 2 DLC characters: Mortal Kombat fighters rumored
There isn't a great deal of information about the game's planned DLC characters, but the Injustice 2 website says the Ultimate Edition of the game will eventually grant you access to nine DLC characters. The original game added Lobo, Zatanna, Martian Manhunter, General Zod and Batgirl, none of whom have been confirmed for Injustice 2 yet. It's also worth noting that anyone who preorders Injustice 2 will get Darkseid as a playable character.
According to Eurogamer, the Ultimate Edition will also get you three "premier skins" that significantly alter the appearance and voice of existing characters. Supergirl will become Power Girl, Flash will become Reverse-Flash and Green Lantern will become... Green Lantern (the John Stewart version). These aren't new characters, but they might as well be with how differently they'll look and sound.
The original game also added Mortal Kombat veteran Scorpion via DLC. According to Boon's tweet from November, a similar approach could be taken to the sequel.
Sub-Zero is a perfect fit for Injustice 2, though some of his more violent abilities would have to be toned down for the game's Teen rating. Poor Jax could only get 5% of the votes.
More fighting game news and updates
While you wait for more Injustice 2 character reveals, read more fighting game news on Mic. Find out more about Super Smash Bros. for Switch, the Injustice 2 roster, the Tekken 7 console release date, what to expect from Marvel vs. Capcom: Infinite and the Evo 2017 lineup.