'EA Sports UFC 3': Release date predictions and what to expect from newest MMA game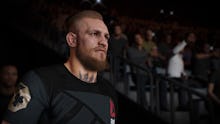 A new EA Sports UFC game, EA Sports UFC 3, is on the way. It's set to release during the publisher's 2018 fiscal year — between April 2017 and March 2018 — per Electronic Arts CEO Andrew Wilson.
Wilson made the announcement during an earning's call that also revealed information on NBA Live 18 and other forthcoming sports games in the company's lineup. EA didn't announce a specific release date or any significant details about EA UFC 3, but the series' past offers some clues as to when it might come out.
EA Sports UFC 3: Release date prediction
EA Sports UFC 2 released on March 15, 2016, but the game received content updates as late as September 2016.
Unlike almost every other game in the EA Sports lineup, the UFC title has been released on an 18 to 24-month cycle. The first EA UFC game released on June 17, 2014, so we can expect EA UFC 3 to receive a release date between late February and mid-March 2018.
That's still a way off, but it should give fans something to look forward to for a little over a year.
EA Sports UFC 3: Potential new features
This is based purely on speculation, but there are a few logical additions to make to the next EA UFC game.
One addition might be a hardcore sim mode. One of the gripes against the last two versions of the game has been its less-than-realistic gameplay in comparison to real-life octagon action. 
Guys and girls take a lot more shots in the game than a real human being could absorb in a real fight, and that hasn't sat well with the hardcore fans of the sport.
Don't expect EA to design a game directed entirely at hardcore MMA fans, though. That's a smaller demographic, and a game like that would probably be too intimidating for casual players.
However, it wouldn't be surprising to see a hardcore mode with ultra-realistic settings. This would appeal to the fan that really knows the sport, and it could also be used to boost the game's eSports efforts. If marketed properly, it could be a successful addition that delivers the something-for-everyone concept.
KO Mode is the exact opposite of a hardcore sim option, but it was a lot of fun. Unfortunately, it could only be played offline in EA UFC 2. I'd be shocked if that doesn't change in EA UFC 3.
It featured hellacious knockouts and controls that felt like a traditional fighting game. Remember what I said about casual fans? No mode is more appealing to that group than this one.
EA UFC 3 will also likely improve Ultimate Team. Ultimate Team in EA UFC 2 wasn't very good — a large percentage of the appeal of collector modes is acquiring famous athletes through pack openings and an auction block, but EA UFC 2 substituted fighter acquisition with the collection of moves and attributes. It was a lot less fun.
The visual presentation of EA UFC 2 was stellar. In fact, the game still features the best player models. That should continue, but fans should expect a new audio experience. Play-by-play announcer Mike Goldberg is no longer with the company, so he'll likely be replaced by Jon Anik, Josh Matthews or someone else.
Hopefully, we'll get a more cohesive commentary package with increased conversational value, too — but for now, all we can do is speculate.
Stay tuned as EA releases more information in the coming months.
More sports gaming new and update
Are you a sports gamer? Check out more content from Mic, including a tutorial on the creation of Charles Barkley as a MyPlayer, a guide to unlocking almost all the badges in NBA 2K17, some Ultimate Team predictions for new signees in the MLS, Madden 17 Ultimate Team NFL Playoff updates and WWE 2K17 DLC news.