Do performers lip sync at the Super Bowl?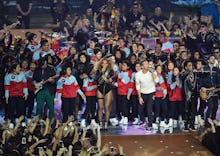 Every year the NFL enlists top talent to perform the national anthem and medleys for the Super Bowl halftime performance. Pyrotechnics, lighting and guest marching bands are brought in to take the event to the next level. And because fans in the past have been curious about whether artists sing live at this event, acts have been subject to answering whether they will do so before the event. 
So do performers lip sync at the Super Bowl? The answer is yes and no.
Country singer Luke Bryan said Thursday on the Bobby Bones Show that he would sing the national anthem live Sunday. "I'm just gonna do it a cappella, so there's no way to... I would never be able to lip sync it in case of a disaster," he said.
Why Super Bowl performers lip sync the national anthem
But the NFL and industry experts are not against artists who lip sync. In fact, they encourage artists to do it.
For example, Whitney Houston sang a pre-recorded version of the "Star-Spangled Banner" at the 1991 Super Bowl. It is considered one of the best renditions of the national anthem ever, but what some didn't know was that her mic was dead during the performance.
"There's no way to rehearse the sound of the crowd ... coming at you," set producer Rickey Minor said, according to ESPN. "You don't know where the first note begins."
Years after Houston's performance, Minor also requested that Jennifer Hudson and Faith Hill submit a pre-recorded track of the national anthem, according to ABC News. 
"There's too many variables to go live," he told ABC in 2009. "I would never recommend any artist go live because the slightest glitch would devastate the performance."
Past Super Bowl halftime show controversy
Halftime performances are different than the national anthem performances as there is usually more movement and spectacle. Some fans still complain if they suspect lip syncing or miming. Several artists have been transparent with fans following these controversies.
For instance, in 2014, Red Hot Chili Peppers bassist Flea released a statement to calm outrage in regards to pre-recorded instrumentation at their Super Bowl halftime show performance alongside Bruno Mars.
The NFL granted them a special request to mine their performance to avoid the risk of "their show being botched by bad sound, period," the statement read. Flea also said lead singer Anthony Kiedis did sing live.
Katy Perry tried to avoid some backlash by implying that some of her halftime performance may be lip synced. "I think a lot of it will be live," she said in 2015, according to Reuters.
Beyoncé was bitten by critics following the 2013 inauguration of President Barack Obama when she lip synced to a pre-recorded track of the national anthem. In the weeks leading up to her first halftime performance that year, she explained her actions.
"Due to the weather, due to the delay, due to no proper sound check, I did not feel comfortable taking a risk," she said at the time.
She added that she would "absolutely be singing live" at the Super Bowl.
Will Lady Gaga lip sync at the Super Bowl?
Lady Gaga is headlining the halftime show this year, but she has not revealed the plans for her vocals. She does want to, "more than anything, create a moment that everyone that's watching will never forget," she said Thursday, the Associated Press reported. 
If this year's post-concert critiques are anything like the past, it would be no surprise if Gaga is questioned on it.
Mic has ongoing Super Bowl coverage. Please follow our main Super Bowl hub here.