Lady Gaga's Super Bowl halftime show: Betting experts share the odds for Gaga's performance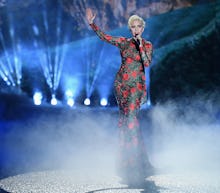 Despite the way it's traditionally billed on television, there are two high stakes games that will go down on Super Bowl Sunday. One is obvious: the Atlanta Falcons vs. the New England Patriots — one will win, one will lose; the odds are well-established and have been pored over for weeks. The other is a bit more abstract, but just as cutthroat: Lady Gaga vs. the world. 
The halftime show is a high stakes situation, arguably a harder five minutes to nail than any given football drive, which athletes replicate week in, week out during the regular season. Performers during the halftime have to move through career-spanning medleys, as well as costume and set changes at a breakneck pace — and because each aspect is so unpredictable, of course you can bet on it.
The oddsmakers over at SportsBettingExperts.com have come up with a list of bets and their handicaps for different things Gaga may or may not do during her performance. They include things like what song she'll open with, what she'll wear and whether or not she'll use the moment to include a protest. Some are far better bets than others, and the odds offer some fascinating insights into who Gaga is as an artist from a statistical standpoint.
The various questions that drive the over/under bets come out of extensive research on fan sites and entertainment media, and through social media conversation.
"Once I have the specific question, setting the price on it isn't much different than setting a price on a football or basketball game," Jim Murphy, a professional oddsmaker and author of the following handicaps, said in an email exchange with Mic. "As an oddsmaker I don't really care about being 'right.' My job is to come up with a number that will get the same amount of money on each side. There's a good deal more logic and 'intuition' on the halftime props than a sporting event since there's nothing to draw from statistically."
That being said, he does think the halftime show offers a ripe opportunity for a serious bettor. 
"Most of the professional bettors I know don't bet on the Super Bowl itself, but instead focus on the countless propositions — not necessarily the halftime show, but the countless statistical props about the gameplay itself," Murphy said, giving as examples bets on "Will there be a safety?" or over/under for the number of field goals.
"Props on unusual topics like the halftime show, TV ratings, etc. can be good bets simply because the oddsmakers aren't used to setting prices on them. It's often possible to know more about the subject than the oddsmaker, and that's a very powerful position to be on."
Read the over/under for each of the major questions surrounding Gaga's performance below. 
A little refresher on betting lingo: A negative number generally represents the "favorite," specifically denoting how much you have to bet to profit $100. Positive numbers represent the more unlikely scenario, specifically how much you profit if you bet $100.
Will Lady Gaga stage a protest at Super Bowl 2017? 
Yes: +275 (Bet $100 to profit $275)
No: -350 (Bet $350 to profit $100)
"'Protest' is considered to be any political statement during her performance," Murphy wrote on his site's odds. The Huffington Post has been calling for Gaga to orchestrate one against President Donald Trump on behalf of immigrants, Muslims and LGBTQ individuals. The NFL is notoriously resistant to their players and entertainers discussing politics outright. However, the organization has said they've placed no such restriction on Gaga.
First song performed by Lady Gaga during the halftime show?
"Bad Romance": -110
"Born This Way": +950
"The Edge of Glory": +1200
"Just Dance": +1500
"Applause": +2500
"Poker Face": +3000
"Paparazzi": +3500
Any Prince song: +3750
Any David Bowie song: +4250
Any George Michael song: +5000
Any Leonard Cohen song: +5500
Any Michael Jackson song: +7500
"Get Schwifty": +10000
Any Other Song: +300
What will Lady Gaga wear during the halftime show?
Hat/Head Covering: -150
Glasses/Sunglasses: +210
Wings: +750
Tail: +1750
Pro-Hillary Clinton/Anti-Donald Trump T-Shirt: +5000
Performs nude: +15000
Will Lady Gaga use a headset or handheld microphone?
Headset: -170
Handheld: +140
Will Lady Gaga cover any of these artists who died over the past year?
David Bowie: +200
Prince: +250
Leonard Cohen: +350
George Michael: +450
Glenn Frey: +800
Paul Kantner: +1200
Leon Russell: +1500
Merle Haggard: +2500
Will Lady Gaga have any surprise 'guest performers'?
No, performs solo: -350
Kendrick Lamar: +350
Beyoncé: +350
Justin Timberlake: +450
R. Kelly: +450
Tony Bennett: +750
Jon Bon Jovi: +800
Elton John: +800
Beck: +1000
Trent Reznor: +1250
Marilyn Manson: +1750
Axl Rose: +2500
Lee Greenwood: +5000
Will Lady Gaga suffer a 'wardrobe malfunction' à la Janet Jackson?
Yes: +750
No: -1250
Will Lady Gaga wear a pink hat during the performance?
Yes: +325
No: -450
Number of wardrobe changes by Lady Gaga?
Over 1.5: -150
Under 1.5: +120