How to preorder the Nintendo Switch: More stock coming soon, but it may not be enough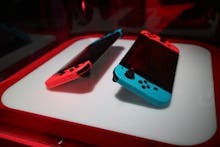 The Nintendo Switch release is the latest in a long line of console launches for the company, but the gaming giant is not known for having an abundance of stock when fans are looking to buy. Those desperate to own the new console on its March 3 release date have likely already put in a Nintendo Switch preorder, but there are bound to be some who didn't put in their preorder in time and are now wishing Nintendo would just shut up and take their money.
New developments, however, suggest that additional preorder stock for the Nintendo Switch may be on the way.
Nintendo Switch Preorder: More units are reportedly on the way
According to a tweet from the Wall Street Journal's Takashi Mochizuki, a Nintendo Switch preorder restock is on the way. It could arrive just in time for a boost in interest caused by that new Super Bowl ad.
Mochizuki quotes Nintendo's Tatsumi Kimishima, stating that the firm "plans to increase production of Switch." The second part of Mochizuki's tweet is in regards to Nintendo Switch preorders, claiming the company is in good standing. This could likely mean many Switch buyers will receive their console on or very close to the official release date.
However, other tweets from Mochizuki suggest that we may not see the extra units arrive until April, according to another tweet from the reporter notes that 
"Nintendo Switch will increase the production," the translated tweet reads. "Even a little more customers after the release date in March to reach. Might be after April, however, depending on the region (country)." 
Nintendo Switch Preorder: Will there be more controllers available, too?
The Nintendo Switch preorder restock may not arrive until after the console's release date, but will those hoping to buy added controllers be able to put in their preorders before March 3? While certain retailers have started to sell the Switch Pro Controller early, others have decided to wait. Since many places like Amazon and Best Buy are still holding off on selling Switch accessories, it seems likely that most stock will still be available to purchase when the console launches.
More Nintendo Switch news and coverage
For more info on the Nintendo Switch, check out details on the console's price, release date, preorders, battery life and our hands-on review. If you're interested in the Nintendo Switch's games, here's info on the new Super Mario Odyssey, Legend of Zelda: Breath of the Wild, Splatoon 2, Xenoblade Chronicles 2, 1-2-Switch and the goofy boxing game Arms.