'Colossal' Review: The real monster in Anne Hathaway's compelling kaiju film is "nice guys"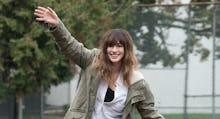 The premise for Anne Hathaway's latest movie is so absurd, it could have the ill-intentioned effect of alienating viewers. Are you looking for a character study starring an A-list actress? Well, yes, Nacho Vigalondo's Colossal is that. But what if that same movie includes a kaiju terrorizing South Korea? 
Yes, you read that correctly. 
Colossal would deserve some credit for its wildly imaginative concept, regardless of execution — just reading its logline is an emotional whirlwind. But the film is exceptionally clever and occasionally hilarious as it explores a much more realistic kind of monster: the "nice guy." That the film shifts focus to be such an of-the-moment, surprising cultural criticism is as unexpected as Hathaway pairing up with a kaiju. 
Colossal follows Hathaway's Gloria, a once-prolific writer at an online magazine who's been out of work in New York for roughly a year. She's still living with her boyfriend, Tim, played by the prolific-in-2017 Dan Stevens. But mere moments into the film, Tim — who's become increasingly impatient and judgmental with Gloria's life choices, particularly her drinking habits, after she loses her job — kicks her out of their apartment. 
Gloria's only refuge is returning to her hometown to live in her empty childhood home (truly empty, as in she has to purchase an air mattress for herself). There, she runs into her childhood friend. Oscar, played by Jason Sudeikis. After learning why she's really come home, he offers her a part-time job at the bar he owns.
At the same time all this is happening, a kaiju suddenly emerges in South Korea. Its actions don't really follow a pattern, and while it does kill some civilians, causing death doesn't appear to be its intent. What does this have to do with Gloria? 
It turns out Gloria is the monster. The monster is mirroring her movements at a particular spot in her town at a particular time of day. When she first becomes privy to this knowledge, Colossal has some genuinely hilarious moments. When Gloria starts dancing in an attempt to convince Oscar and his friends that she and the monster are connected, the monster dances along with her as news stations hurriedly broadcast the footage. 
It's entertaining stuff, but Colossal doesn't appear to have much of a purpose when its main attraction is just a quirky coincidence that Gloria and a kaiju have some intimate connection. It takes some time for the film to hit its stride, but finally opens up as it dissects the true, familiar monster at the story's core. That monster is men, but specifically, men who are "nice guys" that expect women to reward them with companionship and sex, simply for treating her as any normal, decent human being would. 
These come in the form of Tim and Oscar. Tim wants to give the impression he cares about Gloria's well-being. In reality, he's controlling and judgmental, feeling most assured when Gloria is at her lowest. Oscar, meanwhile, gives Gloria a job, furniture and plenty of booze. In return, he doesn't want her flirting with his attractive, well-meaning friend Joel. He'd rather have that attention for himself; if not, he'll resort to threats of destruction to get what he wants. 
A far more relatable type of villain packaged in, of all things, a sci-fi film with a decently rendered CGI kaiju, Colossal will likely struggle to find an audience that understands its motivations. It's being packaged in trailers featuring its lighthearted moments such as Anne Hathaway's dancing, like a hilarious riff of Godzilla. The real reward, however, is when Gloria confronts the abusive relationships with the men in her life. 
It's akin to the way 10 Cloverfield Lane garnered a lot of attention because it's a sequel to Cloverfield, even though it would've succeeded on its own as a claustrophobic, psychological thriller. Colossal will likely be remembered as that imaginative Anne Hathaway movie with a kaiju. The real praise, however, ought to be doled out for the story's true monsters hiding within.
Colossal arrives in theaters April 7. 
Mic has ongoing Anne Hathaway coverage. Please follow our main Anne Hathaway hub here.