'The 100' Season 4 premiere: When and where to watch episode 1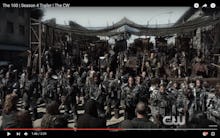 The 100, a post-apocalyptic drama about rebuilding life on Earth, begins its fourth season on the CW Wednesday, Feb. 1, at 9 p.m. Eastern. It can also be streamed via the CW app. 
The show follows a group of teenagers as they return to Earth — which suffered a devastating nuclear apocalypse — from a space station. The first people to return to the planet since humanity was all but destroyed, they are faced with countless moral and ethical quandaries, as well as tests to their physical and mental health. 
The series premiered in 2014 and has received much critical acclaim, with the second and third season holding a 100% rating on Rotten Tomatoes. Rolling Stone ranked the show No. 36 on its "40 Best Science Fiction Shows of All Time" list. 
Rothenberg teased the fourth season at Comic-Con, saying, "The Earth strikes back in season 4, it is an unbeatable foe. It quickly becomes about not how to stop it, because stopping it is not possible, but how do we survive? There aren't enough lifeboats, so who gets to choose who lives?"