In these dark times, let these reactions to Beyoncé's pregnancy announcement give you life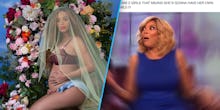 As the dust settled following yet another day full of harrowing President Donald Trump shake-ups and executive order defenses, a ray of light shined out from a quiet corner of the internet and caused the world to pause. On the first day of Black History Month, Beyoncé — mother of Lemonade and Blue Ivy, wife to one of Bed-Stuy's finest MCs — revealed she was pregnant on Instagram, and she's carrying twins.
"We would like to share our love and happiness," Beyoncé wrote in a short caption. "We have been blessed two times over. We are incredibly grateful that our family will be growing by two, and we thank you for your well-wishes."
It was a shot of adrenaline for a weary world, and the internet jolted to life in response. Twitter came with all the best memes to shower at the coming children's feet.
The news comes just a week and half before the Grammys, where Beyoncé is nominated for nine awards, the most of the night. She'll be going up against some stiff competition with Adele and Drake, but it's clear from Wednesday's news that momentum is on her side.
She's also still due to headline Coachella in April. She has yet to cancel, but fans are already getting a little nervous that the tickets they spent so much money on may not be worth as much soon. There's always the possibility she performs anyway, giving her twins an early taste of the show biz life.
Whatever the future holds, Beyoncé helped make it clear there is still beauty and joy in the world. Destiny has a new child on the way, and it is lit.