Super Bowl Channel: Here are your options for watching the Patriots vs. the Falcons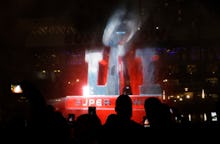 It's that time of year again, so fire up the grill — or the slow cooker — and tune in for Super Bowl 2017.
Where to watch
Through 2023, the major networks will take turns broadcasting the Super Bowl. This year's showdown will air on FOX beginning at 6:30 p.m. Eastern on Sunday, Feb. 5. 
Don't have cable? We've still got you covered. 
How to stream
You can livestream the Super Bowl for free on Fox Sports GO on your tablet or other connected device, including Apple TV, Roku, Amazon Fire or XBOX One. Luckily, you don't have to prove you're a cable subscriber to gain access. 
NFL Game Pass will also stream the game after midnight. Verizon is letting customers stream the full game on their phones using the NFL Mobile app, but this is currently the only option for mobile streaming. Packages like Sling TV and Playstation Vue are carrying the game, which makes it the perfect time to sign up for a free trial of either.