Delaware prisons on lockdown after inmates reportedly take hostages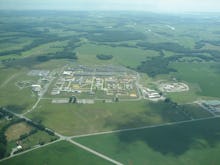 Prison officials imposed a statewide lockdown at all maximum security prisons in Delaware on Wednesday after inmates took guards hostage at Level 5 James T. Vaughn Correctional Center near the city of Smyrna, WCAU in Philadelphia reported.
The correctional center holds roughly 2,500 inmates, including persons held under minimum, medium and maximum security conditions and the state's death row. Aerial photos showed numerous emergency personnel including heavily armed police intervention teams congregating around the facility.
While Geoffrey Klopp, president of the Correctional Officers Association of Delaware, confirmed to the Los Angeles Times that prisoners had taken hostages, few other details were immediately available. Delaware state Rep. William Carson, who sits on a state correctional committee, told the News Journal inmates had seized control of a building.