Sheryl Sandberg takes a stand against Donald Trump with a $1 million donation to Planned Parenthood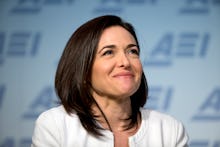 Facebook COO Sheryl Sandberg — founding mother of "leaning in" and one of the most powerful women in business — is donating $1 million to Planned Parenthood. 
"On behalf of the more-than-two-million patients who come to Planned Parenthood each year, we are so grateful to Sheryl Sandberg for her longstanding, and now increased, support for our health care," Cecile Richards, Planned Parenthood president, said Wednesday in a statement to CNN.
Sandberg's donation is unavoidably political, in defiance of President Donald Trump and his Republican colleagues' attempts to roll back women's reproductive rights — such as his executive order instituting a global gag order banning federal funds from going to any organization that either provides abortions or information about the procedure. 
In a Facebook post last week, Sandberg called the order "a policy that could have terrible consequences for women and families around the world." 
"Women's rights are human rights — and there is no more basic right than health care," she added. "Women around the world deserve our support."
It's worth noting that only a small fraction of Planned Parenthood's work involves abortions (which federal funds do not support). The vast majority of the non-profit organization's services involve providing basic reproductive health care, such as various forms of cancer screening. 
Sandberg joins hundreds of thousands of recent donors to Planned Parenthood
Donations to the organization have spiked since the presidential election. In the six weeks after Trump was voted into office, Planned Parenthood received donations at a rate 40 times higher than usual, from some 300,000 people. Other high-profile donors include Amy Schumer, Katy Perry and Gloria Steinem.
Sandberg will also divert $100 million in Facebook stocks to support charities, according to Securities and Exchange Commission paperwork filed Nov. 30, including charities focused on women's empowerment. 
"I recognize fully the challenges," she said Wednesday in San Jose, California, during the Watermark Conference for Women. "I have to be optimistic. Hope is the fuel for social change. When we don't have hope, we give up on ourselves."
"This is a particularly challenging time," she added. "But no matter how challenging it looks, history is on our side."
Sign up for The Payoff — your weekly crash course on how to live your best financial life. Additionally, for all your burning money questions, visit Mic's credit, savings, career, investing and health care hubs for more information — that pays off.