Nicki Minaj reunites with Drake a few weeks after breaking up with Meek Mill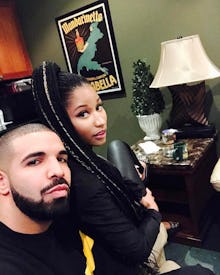 Nicki Minaj and Drake are back to putting the Young Money family first as they both reunited with their mentor Lil Wayne recently, posting a series of photos to Instagram Wednesday afternoon. 
The re-connection comes weeks after Nicki Minaj broke up with her ex-boyfriend rapper Meek Mill, who had an infamous beef with Drake that lasted weeks in 2015.  
A few fans reacted to the news on Twitter Wednesday:
Last April, Drake told Zane Lowe on Beat 1 radio, he hadn't been speaking to Nicki, who was still dating Meek Mill at the time. "I don't really talk to Nicki. Another person I have a lot of love for ... She dealt with me how I would expect her to — with class. I always have respect and love for her. Unfortunately, we haven't spoke," he said.
But way before that drama unfolded, Minaj and Drake had their own relationship complications. Back in 2013, Drake whose never been shy about rapping about his personal life rapped about messing up their relationship on his song "Tuscan Leather." 
"Not even talkin' to Nicki, communication is breakin'/ I dropped the ball on some personal shit, I need to embrace it/ I'm honest, I make mistakes, I'd be the second to admit it/ Think that's why I need her in my life, to check me when I'm trippin'," he rapped. 
Both Nicki Minaj and Drake signed to Wayne's Young Money Entertainment in 2009 and collaborated on several songs including Minaj's "Only," which also features Chris Brown and Drake's "Make Me Proud." 
Mic has ongoing Nicki Minaj coverage. Please follow our main Nicki Minaj hub here.