Nintendo Switch VR Ready? Support for a virtual reality headset may be in development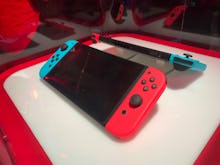 The Nintendo Switch release date is nearly one month away and details about the console continue to surface. But the latest Switch rumor focuses on a surprising subject: virtual reality.
In a tweet from Tokyo-based video game analyst Dr. Serkan Toto, the industry insider reveals that Nintendo president Tatsumi Kimishima spilled some major details regarding the Nintendo Switch.
Nintendo Switch VR Support: Could virtual reality be on the way?
Along with serving up details about the Nintendo Switch for paid online service, which will allegedly cost between $17.50 and $26.50 per year, Toto relays Kimishima's hints at potential virtual reality features for the Nintendo Switch. 
There's no explanation of how a Nintendo Switch VR unit would work. Switch VR could simply see Nintendo offer a separate headset that you purchase and plug right into the TV dock. Or the company could go the Samsung Gear VR route, requiring you to put the Switch unit itself into a headset. That second option seems pretty implausible, though, considering the Switch's limited display resolution.
Either way, the Nintendo Switch likely doesn't have the specs required to power a decent virtual reality experience, but Nintendo may have a workaround in mind. Perhaps the headset will ship with an extra processor unit, or maybe the company will simply limit users to very basic VR experiences.
Nintendo Switch VR Support: Not the company's first attempt at virtual reality
This wouldn't be Nintendo's first attempt at virtual reality. Released back in 1995, the Virtual Boy was much less capable than even the simplest VR headsets we have today. Inside the visor, games appeared in black and red — much fewer colors than what's available today from competitors like the Playstation VR, Oculus Rift or even Google Cardboard.
2017 could be a good time for Nintendo to attempt virtual reality again. Many consider the Wii U a failure, and the verdict is still out on whether consumers will actually buy the Switch en masse. If implemented properly, Nintendo Switch VR could help the company compete with rival products like PSVR. 
Before you get too excited, remember that Nintendo is still just studying VR, according to Toto. We don't expect the Switch to support virtual reality anytime soon, but we wouldn't rule it out entirely either.
Check out more Nintendo Switch news and coverage
For more info on the Nintendo Switch, check out details on the console's price, release date, preorders, battery life and our hands-on review. If you're interested in the Nintendo Switch's games, here's info on the new Super Mario Odyssey, Legend of Zelda: Breath of the Wild, Splatoon 2, Xenoblade Chronicles 2, 1-2-Switch and the goofy boxing game Arms.