These 5 companies would be hurt by Trump entering a trade war with China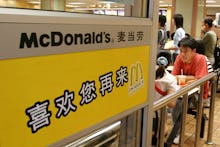 President Donald Trump has already pulled out of the Trans-Pacific Partnership. He's also promised to "renegotiate" the North American Free Trade Agreement, and he's proposed a 20% tax on products coming across the Mexican border. All of these actions, plus his rhetoric on the campaign trail, have some worried that the president is going to start a trade war with China, one where there are boycotts in both countries of products from the other.
Here are five companies that could be hurt in a major way by a trade war between the United States and China:
Yum! Brands
Yum! Brands is a major fast food company that includes brands like Taco Bell, Pizza Hut and KFC. They get 54% of their revenue from China, according to CBS News.
Qualcomm
The maker of chips for cell phones gets 57% of its revenue from China, according to Business Insider.
Apple
Yes, even giant consumer companies like Apple could be hurt by boycotts in China. Around 25% of the Cupertino tech company's revenue comes from China, according to CBS.
Nike
Nike has seen huge growth in China ever since the country hosted the 2008 Summer Olympics, Bloomberg reported last year. A trade war would obviously stunt that growth.
McDonald's
The Golden Arches does 13% of its business in China, CBS reports. With the fast food giant already struggling, a hit to its business in China would be a major blow.