Seattle City Council committee moves to pull $3 billion from Wells Fargo over DAPL funding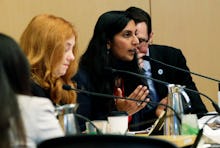 As President Donald Trump's administration moves to resume construction of the widely contested Dakota Access Pipeline, Seattle is pushing back. 
The Seattle Times reported that the city's Affordable Housing, Neighborhoods and Finance Committee voted Wednesday to pull $3 billion in city funds from Wells Fargo Bank, one of the companies subsidizing the pipeline's construction. The decision came in the form of a bill that will continue from the committee to the City Council on Monday. If passed, the legislation will also obligate the city to weigh social justice issues in considering future contracts. 
"We all agree: Divestment is our goal," councilwoman Debra Juarez said in the meeting, according to the Seattle Times. The committee hopes that Seattle's demonstration of support for DAPL protesters will encourage other cities to revoke funding as well.
On Tuesday, North Dakota Sen. John Hoeven announced the United States Army Corps of Engineers had been given the go-ahead to move forward with construction along DAPL's previously planned route. In December, protesters gathered in solidarity with the Standing Rock Sioux Tribe scored a victory when the Army Corps halted construction. It turned out to be short-lived, though: On Jan. 24, Trump signed two executive orders potentially enabling DAPL to proceed with building as planned. 
In a statement, Wells Fargo reportedly stressed that it was contractually bound to "fulfill its legal obligations" to its customer, highlighting both the small fraction of DAPL's total funding it contributed and the bank's environmental contributions. Wells Fargo insisted on its commitment "to environmental sustainability and human rights."
Should Seattle revoke funds, it won't do much financial damage to Wells Fargo's earnings, according to the Seattle Times. Still, it's a win for the protesters who've gathered outside City Hall to urge support for the bill, one that sends a message to other cities.