Psst! Skipping the Super Bowl is a great way to snag deals, save money and get that hot reservation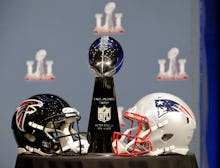 Maybe you're not a Patriots (or Falcons) fan, or maybe the commercials just don't do it for you. Maybe you're uncomfortable with the machismo, the sexism, or the ongoing concussion debates. 
If you think you can skip Super Bowl 51, a best-kept secret among football-forgoers is that there could be some damn good discounts in it for you. 
Though nearly a third of the country is expected to be stuck on their couches with their eyes glued to the TV, it's still business as usual for the nation's ski resorts, spas, restaurants and theaters. With fewer customers clamoring to get in, the cost of admittance often goes down. 
Supply, meet demand.
Tickets to Broadway shows are generally discounted on Super Bowl Sunday, particularly if you're talking about a 7 p.m. Eastern performance that begins right around kickoff: At the time of writing, one ticket via Ticketmaster to see Book of Mormon during the Super Bowl went for $199 — compared with $352 for the following two Sundays, for example.
Another common Super Bowl discount is for lift tickets at various ski resorts, which typically might set you back up to a hundred bucks at the nicer places — and that's not counting ski rentals.
The CEO of Liftopia told Kiplinger in 2016 that slopes usually see half the normal occupancy on Super Bowl Sunday — hence the discounts — and that trend seems to hold for 2017.
Lift passes are $51 at Sugarloaf in Maine, for example, compared to $95 on a normal weekend. One lil catch? To get the deal, you must don a Patriots jersey.
Some spas also use the Super Bowl to target bored significant others with special deals, Spafinder research director Beth McGroarty told Money in 2015.
"If you don't see a special at your favorite spa, just ask," McGroarty said. "Bookings may be lighter, and under-the-radar deals may be available." 
At least one California restaurant is offering a special "Super Bowl Widow's" three-course menu for about $50 on Sunday. But if you care less about saving money and more about getting into a swanky restaurant, know the Super Bowl is a great time to snag a more exclusive table, too.
OpenTable told Marketwatch that game day tends to be the second-emptiest day of the year for restaurants.
Of course, if you can't resist the Super Bowl's siren song, then there are still deals to be had. Pix 11 notes that major pizza chains including Papa John's, Dominos and Pizza Hut are offering specials to lure in hungry viewers.
So you can chow down for cheap as you watch the game — or anything else your heart desires.
Sign up for The Payoff — your weekly crash course on how to live your best financial life. Additionally, for all your burning money questions, check out Mic's credit, savings, career, investing and health care hubs for more information — that pays off.