'Overwatch' Valentine's Day Cards: Adorable fan-made valentines to send to your player 2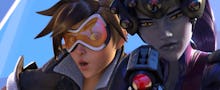 Blizzard has confirmed Overwatch isn't getting an official Valentine's Day event, but that hasn't stopped the artistically inclined members of the Overwatch fandom from taking things into their own hands.
The Overwatch fandom, in particular, is known for its amazing fan creations, but these valentines are unique in that you can actually send them to the Overwatch fan in your life who you're crushin' on. Just, uh, don't come knocking on our door if these terrible puns don't seal the deal.
Overwatch Valentine's Day Cards: The best fan art from around the web
Let's start things off with a classic turn-of-phrase, starring everyone's favorite hunky dad, Soldier: 76.
Here are a few inspired by the "Reflections" comic in which Blizzard revealed Tracer is in a same-sex relationship with a woman named Emily. For example, you might need to break someone's heart who hasn't heard the news that you play for the other team yet.
And once you're done fighting off the straights, maybe you'll finally be ready to confess your love to a lovely lady in your life. This card should do the trick.
If you need something more calming, don't worry. The peaceful Omnic monk Zenyatta should fit the bill.
If you need something not so wholesome we've also got you covered. The chaotic Timon and Pumbaa-esque dynamic between Junkrat and Roadhog is perfect for that person in your life who makes you feel like you can really let loose.
The Overwatch Twitter account got in on the Valentine's Day action, too. It's been tweeting some cute character art at its followers.
And, finally, let's close out with the classic "roses are red" formula. With an Overwatch twist, of course.
Can't go wrong with the classics. Happy Valentine's Day!
More Overwatch news and updates
For more on Overwatch, check out the rest of what Mic has to offer. Here is a list of our predictions for what seasonal events might appear in 2017, a look at a very funny, but naughty meme on the Overwatch subreddit, an interview with the creator of an awesome new Overwatch zine, the full patch notes for Overwatch version 2.03, a full explanation of the different types of health in Overwatch, our definitive ranking of every Overwatch hero, a roundup of awesome gender-bent Overwatch cosplay and a giant Overwatch FAQ for beginners.