#TrumpBlackHistory perfectly explains Donald Trump's ignorance about black America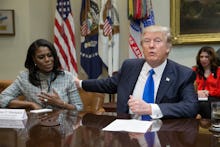 On Wednesday, President Donald Trump delivered a few words during a roundtable to kick off this year's Black History Month — and it was, well, confusing at best. He stumbled through the remarks and appeared not to know much about the (very famous) 19th-century abolitionist leader Frederick Douglass, who Trump said "has done an amazing job that is being recognized more and more, I noticed."
So of course, it only took a few hours before Twitter began roasting Trump's apparently lacking knowledge of black history with the hashtag #TrumpBlackHistory. 
Here are few of the best "alternative facts":