Nintendo Switch Deluxe: Specs leak points to a premium version with extra storage space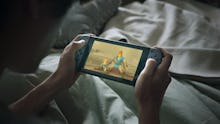 By now we have a good idea of the Nintendo Switch specs: a 720p 6.2-inch touchscreen, 32GB of built-in storage and microSD card support to increase that storage. However, it looks like there may be a more capable version of the console out in the wild. Could there be a Nintendo Switch Deluxe waiting in the wings?
A (now removed) video uploaded by Nintendo Portugal showed hidden screens of a developer menu featured on what looks like a special variant of the Nintendo Switch, according to Polygon. In addition to the developer-friendly user interface, something interesting is tucked away in the black and white menus: more built-in storage capacity. 
Nintendo Switch Deluxe: Leaked specs indicate a 64GB version of the console exists
Kotaku snagged a few screenshots of the developer unit video before it was removed from YouTube. There's not much evidence supporting a Nintendo Switch Deluxe version for consumers, but there's definitely a 64GB model out there. 
See for yourself:
The lower right section of the screen shows the amount of storage available in the system. It's clear that no microSD card is inserted, yet the available storage measures up to 57,643,504KB, or 57.64GB. We all know storage tends to be slightly less than advertised, but this amount is certainly more than the 32GB on its way in consumer Nintendo Switch units.
Nintendo Switch Deluxe: When can we expect a premium version to launch?
It's much too soon to begin expecting a new version of the Nintendo Switch — the first one isn't even out yet. But if Nintendo is known for anything, it's iterating. The Game Boy Advance saw SP and Micro versions after the original. The DS became the DS Lite and the DSi, while the 3DS got a new version quite literally called the New 3DS. Even the Wii saw the Wii Mini. So a Nintendo Switch Deluxe or Nintendo Switch Plus isn't out of the question.
Even so, it likely won't come out anytime soon. Launching a Deluxe version of the Switch early on would likely cut into sales for the original model. It would also annoy fans who pre-ordered Nintendo's new console. So if you're an early adopter at heart, it's definitely not worth waiting around for this rumored variant.
More Nintendo Switch news and coverage
For more info on the Nintendo Switch, check out details on the console's price, release date, preorders, battery life and our hands-on review. If you're interested in the Nintendo Switch's games, here's info on the new Super Mario Odyssey, Legend of Zelda: Breath of the Wild, Splatoon 2, Xenoblade Chronicles 2, 1-2-Switch and the goofy boxing game Arms.