Trump reportedly threatens to send troops to Mexico, insults Australia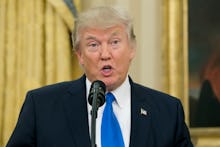 President Donald Trump has spent much of his first weeks in office upturning the traditional understanding of international diplomacy, allegedly threatening to send troops to Mexico, cutting off an angry call with the leader of Australia midway and putting the government of Iran "on notice."
According to a Wednesday Associated Press article, during a recent call with Mexican President Enrique Peña Nieto, the president threatened to deploy U.S. troops into Mexico to stop "bad hombres" supposedly causing trouble along the United States' southern border. Despite the remark essentially being tantamount to a threat of military invasion (however credible), Trump apparently did not clarify whether the "bad hombres" in question were drug lords, undocumented immigrants or another, unstated threat entirely.
"You have a bunch of bad hombres down there," Trump told Peña Nieto, the AP reported a transcript of the conversation read. "You aren't doing enough to stop them. I think your military is scared. Our military isn't, so I just might send them down to take care of it."
According to the AP, Mexican website Aristegui Noticias described the call as "Trump ... humiliating Peña Nieto in a confrontational conversation."
The White House has denied the report, according to Agence France-Presse correspondent Andrew Beatty. The AP noted Mexico's foreign ministry also contested the tone of the call and said it was "constructive," while CNN wrote that a different transcript of the call suggested the mention of troops was more of an offer.
Mexico is one of the United States' biggest trading partners. But amid Trump's hostile campaign rhetoric about the country and threats to impose a 20% tax on Mexican imports, the Guardian reported, U.S.-Mexican relations are now at their worst point in modern memory.
In another phone conversation, with Australian Prime Minister Malcolm Turnbull on Saturday, the Washington Post reported Wednesday, Trump "blasted ... Turnbull over a refugee agreement and boasted about the magnitude of his electoral college win."
Trump thundered, "This is the worst deal ever," in reference to a pre-existing commitment for the U.S. to accept around 1,250 mostly Muslim refugees Australia refuses to admit and has instead housed on Nauru and Papa New Guinea, according to the Washington Post.
After accusing Turnbull of trying to unload the "next Boston bombers" on the U.S. and saying the exchange "was the worst call by far" of the diplomatic calls he made that day, Trump apparently cut off the scheduled one-hour call just 25 minutes in.
Turnbull later said Trump did so "courteously."
But Trump later called the refugee agreement a "dumb deal" on Twitter, saying former President Barack Obama "agreed to take thousands of illegal immigrants from Australia."
Australia is a close U.S. military ally and trading partner, though Trump's comments are unlikely to reverse poll numbers showing fading Australian popular support for that alliance.
Finally, Trump's administration responded to ongoing Iranian ballistic missile tests by sending out National Security Adviser Michael Flynn to threaten that the nation was now "on notice" for its "destabilizing behavior across the entire Middle East."
Flynn did not elaborate on what being put "on notice" meant for Iran.
According to the AP, senior Trump advisers cited a "range of options" including economic sanctions and support for Iran's regional enemies, but "declined repeatedly to say whether military action was being considered."
Trump later tweeted Iran "is rapidly taking over more and more of Iraq," saying it was "obvious long ago."
Feb. 2, 2017, 2:14 a.m.: This article has been updated.
Correction: Feb. 2, 2017