Trump approved Yemen al Qaeda raid — which left SEAL dead — without "sufficient" intel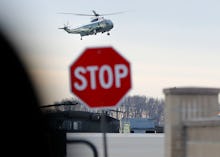 President Donald Trump's raid on an al-Qaida stronghold in Yemen — which left a United States service member and civilians, some of them children, dead — was approved without "sufficient intelligence, ground support or adequate backup preparations," according to a Reuters report.
William "Ryan" Owens, a Navy SEAL, was killed in the weekend raid, along with 30 civilians, including 10 women and children. 
A U.S. military official told Reuters the commander in chief approved the raid in the al Bayda province using ground surveillance that was "minimal at best."
According to the report, "the attacking SEAL team found itself dropping onto a reinforced al-Qaida base defended by landmines, snipers and a larger than expected contingent of heavily armed Islamist extremists."
On Sunday, Trump characterized the operation as a success, saying officials garnered "important intelligence that will assist the U.S. in preventing terrorism against its citizens and people around the world," according to the New York Times.
The al-Qaida base was identified under President Barack Obama, however, Obama declined to approve the raid. According to the New York Times, the Pentagon wanted the raid to be on a "moonless night," which wouldn't be until after Obama left office. 
"The decision was made ... to leave it to the incoming administration, partly in the hope that more and better intelligence could be collected," a military official told Reuters.
In a statement, U.S. Central Command said, "Any operation where you are going to put operators on the ground has inherent risks."
President Trump took a surprise trip to Dover Airbase to honor the return of Owens' remains. "I just returned from an amazing visit with a great, great family at Dover. It is something very sad, very beautiful. Ryan, a great man," Trump said following the visit.