The uterus just got the high fashion treatment it deserves at Stockholm Fashion Week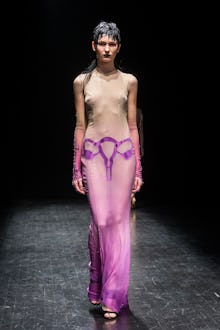 If 2015 was the year of vaginas in fashion, from vagina rings to vagina dresses to vulva purses, and if 2016 was year of the penises in fashion — what with Vivienne Westwood sending penis necklaces down the runway and lipsticks made to look like penises — then 2017 is shaping up to be the year of uterus, arguably the most powerful thing in the universe, in fashion.
At designer Emelie Janrell's show during Stockholm Fashion Week, she sent two dresses down the runway emblazoned with the unmistakable silhouette of uteri. 
On one ombre dress, a purple uterus is printed right across where a uterus could be, supersized and prominent. 
And on another purple dress, the uterus is printed all over. 
We'll take 10, thank you.
Although the uterus has been appreciated by fashion before, notably with designer Rachel Antonoff creating sweatshirts and T-shirts with the unmistakable image, this is the first time we can think of that it's gotten the high fashion treatment on the runway in a tasteful way. 
Squint at that second dress and you might never know. 
And this isn't the first time Janrell's designs have made a stir either. In November, Swedish pop star Tove Lo wore one of Janrell's dresses to the Australian Record Industry Association Music Awards and posted a picture of herself in it on Instagram. 
While that look apparently shocked many of Lo's fans, Janrell made it clear that that sort of response is what's keeping her from not letting the uterus design go. 
"I'm actually very surprised by the overall impact the dress has made," Janrell said to the Guardian. "After all, it is just a graphic image of the female anatomy. The fact that that is such a shock may call for more uteruses."
Since this is a time when reproductive rights are in undeniable peril in the United States too, the uterus seems to be making its fashion debut just in time. 
Mic has reached out to designer Emelie Janrell for comment.