'Arrow' season 5, episode 12 spoilers: What will happen in "Bratva"?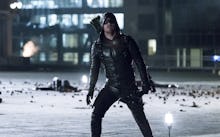 After brief teases in season five, the latest installment of Arrow, titled "Second Chances," officially introduced two important female characters to the show: Dinah Drake and Talia al Ghul.
Dinah Drake (previously known as Tina Boland) is a metahuman from Central City who develops her own "Canary Cry" following the particle accelerator explosion. She appears set to take on the Black Canary mantle in honor of the late Laurel Lance. Meanwhile, it was revealed in the flashbacks that Talia al Ghul was rather instrumental in Oliver's transformation into the Green Arrow. 
In season five, episode 12 of Arrow, titled "Bratva," Green Arrow and the rest of his team, including Dinah Drake and a newly freed John Diggle, will travel to Russia, where they will meet up with Oliver's friend, Anatoly. "Bratva" is also set to see the return of Quentin Lance, who has been away in rehab for his alcohol addiction for several episodes. 
You can check out the official synopsis for "Bratva" via ComicBookMovie.com, below:
"A mission takes Oliver (Stephen Amell), Felicity (Emily Bett Rickards) and team to Russia where they meet up with Oliver's old friend, Anatoly (guest star David Nykl). Meanwhile, fresh out of rehab, Lance (Paul Blackthorne) returns to the mayor's office ready to get back to work. However, when Susan (guest star Carly Pope) asks for an interview with Lance to discuss his addiction, he balks and it's up to Rene (guest star Rick Gonzalez) to help keep things on track."
Need just a little extra to hold you over until next week? Here is the extended promo for season five, episode 12 of Arrow: 
Season five, episode 12 of Arrow, "Bratva," airs Wednesday, Feb. 8 at 8 p.m. Eastern on the CW.
Mic has ongoing coverage of Arrow. Please follow our main Arrow hub here.