'Kingdom Hearts 3' Release Date 2017: New screenshot pays homage to 'Final Fantasy 7'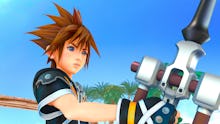 Japanese game developer Square Enix recently celebrated the 30th anniversary of the Final Fantasy franchise and the 20th anniversary of one of its most iconic games: Final Fantasy 7. In honor of its rich past, Square Enix released images of two of its games coming out in the near future: The remake of Final Fantasy 7 and the highly anticipated Kingdom Hearts 3.
Neither game has a confirmed release date just yet — they're likely each at least a year away, making it difficult to predict exactly when they'll be ready — but the images Square Enix released are pretty cool.
New Kingdom Hearts 3 and Final Fantasy 7 screenshots
Here's the new image from Kingdom Hearts 3.
It doesn't tell you a whole lot, but hey — if you're a die-hard Kingdom Hearts fan, you're probably willing to take anything you can get at this point.
As one of the responses to that tweet notes, the image seems to be a callback to one of the most iconic images from Final Fantasy 7.
And, to show you just how gorgeous the remake of Final Fantasy 7 looks, check out how the new image of the remake compares to the original image above.
More Kingdom Hearts 3 news and updates
Read more about what game director Tetsuya Nomura has to say about Kingdom Hearts 3, what to expect from Kingdom Hearts 2.8 and overall info about KH3. Or check out this massive Kingdom Hearts-themed clock, if you're into that sort of thing.