Mike Pence celebrated Black History Month by tweeting out a white man's accomplishments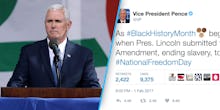 Whose name comes up first when you think of Black History Month? Martin Luther King Jr.? Malcolm X? Beyoncé's unborn twin messiahs? 
Those are all some pretty typical answers. But, for Vice President Mike Pence, another name comes up. He's a great man, for sure, but someone less celebrated than some Black History Month mainstays: 16th U.S. president and certified white man Abraham Lincoln. 
"As #BlackHistoryMonth begins, we remember when Pres. Lincoln submitted the 13th Amendment, ending slavery, to the states #NationalFreedomDay," Pence wrote on Twitter on Wednesday night. 
Unfortunately, like most third graders, Pence credits Lincoln for freeing the slaves, rather than the tireless work of an entire abolition movement. And let's not forget Lincoln's famous sentiment that if he could save the union without freeing a single slave, he would. Given that Black History Month is the (often only) time of year that black Americans' accomplishments are celebrated, it seems odd that the vice president would take a moment to pat Lincoln on the back. 
Aside from turning the end of slavery into a white savior narrative, Pence's first tweet about Black History Month as vice president only references black people as slaves. In a month meant to highlight black accomplishment, the vice president chose to reference only black oppression. 
Day one of Black History Month from the White House was a doozy. Not only has Pence cited Lincoln's hard work rather than literally any black person in U.S. history, President Donald Trump and press secretary Sean Spicer both seem to have forgotten that Frederick Douglass is dead.  
It seems like everyone at the White House is in serious need of a black friend. And, hey, Stacey Dash is in need of a job.