Former UC Santa Cruz student settles one of the country's largest Title IX cases to date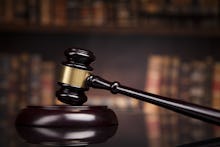 The University of California has settled its Title IX case with former University of California, Santa Cruz student Luz Portillo, a young woman who said a professor raped her the night before her 2015 graduation ceremony, which she didn't end up attending.
The university awarded Portillo a $1.15 million settlement before she'd filed any formal lawsuits or criminal charges, making hers one of the largest Title IX settlement to date, according to BuzzFeed News.
Portillo said the professor, a man named Hector Perla Jr. who taught in the Latin American studies department, had invited her and another student to a wine tasting to celebrate the end of their senior year. 
While at the winery, Perla allegedly encouraged Portillo to drink excessively before bringing her and the other student to the latter's home. It was there where, after feeding Portillo more drinks, Perla and the other student allegedly sexually assaulted Portillo, who was "severely intoxicated to the point where she was not fully conscious." 
Portillo reported the rape to U.C. Santa Cruz, but said she received "very little help" from the university and decided to take matters into her own hands.
"I had to become my biggest advocate," she told BuzzFeed News. "I didn't want to go unnoticed."
Portillo accused university officials of doing little to adjudicate her sexual assault case. She also leveled an even more serious accusation against them — of doing nothing to stop her assault from happening in the first place.
According to Portillo, Perla was known for having inappropriate relationships with students, but never faced any consequences for them.
"Like many other higher institutions, UCSC looked the other way when it became aware [Perla] was hunting undergraduates," John Kristensen, Portillo's lawyer said in a statement. "There was no investigation and no attempt to protect subsequent students from [Perla]."
"I had to become my biggest advocate. I didn't want to go unnoticed."
A disturbing trend: Stories like Portillo's are, unfortunately, hardly unusual. Universities across the country have seemed to turn the other cheek to faculty members with histories of sexual harassment and assault.
In January, University of California, Los Angeles history professor Gabriel Piterberg returned to teach classes after forcibly sticking his tongue in the mouths of two female students. Campus officials temporarily suspended Piterberg without pay for the spring 2015 term, fined him $3,000 and made him attend sexual assault harassment hearings. 
He'll now have to leave the door open if he meets with students one-on-one — but he can still meet with him. He can still teach.
In October, Wesleyan University fired associate dean Scott Backer after a Boston Globe story revealed that the dean — whose job, in part, included adjudicating Title IX cases at Wesleyan — had allegedly propositioned a 16-year-old student during his previous tenure at a Vermont prep school.
School officials said the Globe's inquiries into Backer had been the first time they were hearing of the sexual harassment allegations; some students claimed the allegations were common knowledge on campus as far back as 2009.
Portillo said she decided to go public with her story because she didn't want another one of these cases to fly under the radar.
"I was hesitant about putting my name out there," Portillo told BuzzFeed News. "It allowed me to reclaim what happened to me. I wasn't going to be another anonymous person."