There's a secret meaning to Beyoncé's pregnancy photo underwear, according to Twitter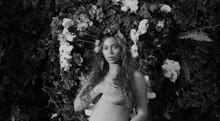 On Feb. 1, Beyoncé broke the Internet by posting a single photo from her recent maternity shoot with the artist Awol Erizku. In less than 24 hours, more than 8 million people have already liked the image on Instagram. The pop star included the following message in the photo caption:
"We would like to share our love and happiness. We have been blessed two times over. We are incredibly grateful that our family will be growing by two, and we thank you for your well wishes."
But just what are the sexes of these bundles of joy? Though additional photos were posted to Beyoncé's official website on Feb. 2, some fans are convinced that the answer lives in that first picture:
Hints for the fans?
Look closely at Beyoncé's first maternity portrait. The follow-up underwater photos, while ethereal and mysterious, may be more of a diversion to the question the Internet is asking. 
As People writer Dave Quinn points out, the expectant mother has on two traditional baby colors: baby pink and baby blue. She has a little pink bow on her Agent Provocateur bra, and her Dauphine underwear by Liviara are blue. Could that mean that one of Beyoncé's twins will be a girl and the other will be a boy? Many fans believe so and are turning to Twitter to post their opinions about the theory:
Some fans have other theories (or even requests) about how the twins' assigned sex reveal could go down. That's not to mention making suggestions for baby names and sharing opinions about gender constructs.
The truth is, it's still early. And even if Beyoncé does know the babies' assigned sexes, let's not forget that gender is a social construct. Since Beyoncé is a feminist, it's difficult to imagine her buying into such trite gender associations as blue=boy and pink=girl. 
For now, we can immerse ourselves in the poem Lemonade poet Warsan Shire wrote in honor of Beyoncé's babies. In between Erizku's photos on the singer's official website, you'll find lush stanzas penned by Shire. 
Take this one:
mother is a cocoon where
cells spark, limbs form, mother
swells and stretches to protect her
child, mother has one foot in this world
and one foot in the next,
mother, black venus
Congratulations, Beyoncé. You wear motherhood quite well.