Donald Trump told everyone to pray for Arnold Schwarzenegger because of "those ratings"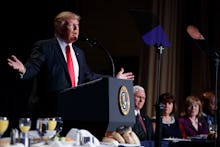 President Donald Trump attended the National Prayer Breakfast on Thursday — an annual event that has, in the past, been a place for presidents to speak to Washington insiders and religious leaders about the role faith and prayer play in their lives. But for Trump, the event quickly became an opportunity for him to brag about his television stardom and to slam his Celebrity Apprentice successor, Arnold Schwarzenegger.
"We had tremendous success on The Apprentice, and when I ran for president I had to leave the show, that's when I knew for sure I was doing it," Trump told the crowd on Thursday. "And they hired a big, big movie star, Arnold Schwarzenegger, to take my place. And we know how that turned out. The ratings went right down the tubes, it's been a total disaster, and Mark [Burnett] will never, ever, bet against Trump again. And I want to just pray for Arnold, if we can, for those ratings."
This isn't the first time Trump has appeared unable to let go of his celebrity ego, and he seems to have a particular beef with Schwarzenegger, his television replacement. 
In January, the president tweeted that Schwarzenegger had been "swamped" by the "ratings machine" Trump was when he hosted The Apprentice and its celebrity spinoff. To which Schwarzenegger replied succinctly, "I wish you the best of luck and I hope you'll work for ALL of the American people as aggressively as you worked for your ratings."