'Powerless' Series Premiere Preview: Destruction is a laughing matter in NBC's new comedy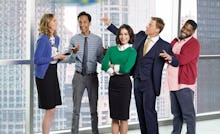 If there is one film and television genre that seems to show no signs of slowing down, it is comic book adaptations. There are so many superhero shows on TV today, it takes a few moments to count them all. Currently, there are over a dozen series based on comic books currently available on a litany of channels. Most, though not all, of these series follow a classic format: There is a hero and a villain, they do battle, and destruction ensues. It's simple. But very little time is spent on the ordinary person who is affected by all the violence. Enter NBC's Powerless.
The new workplace comedy will premiere on Thursday, Feb. 2 at 8:30 p.m. Eastern and it is set to predominantly follow non-powered individuals. You could say they are "powerless." The series stars Vanessa Hudgens as Emily Locke, Wayne Security's new director of research and development (no, Bruce is not in the show). Joining Hudgens is Alan Tudyk, who plays a Wayne, but not the one you are familiar with. Tudyk stars as Van Wayne, Bruce's black sheep of a cousin, and the head of Wayne Security.
In Powerless, Wayne Security has a difficult task: making ordinary individuals feel safe in a world full of powerful heroes and villains. The premise is an interesting one, as few movies or series deal with the fallout of the many battles between powered adversaries. Remember in Man of Steel, when Superman and General Zod essentially destroy all of Metropolis? Other than the brief revisit we are given in Batman v Superman, we never got to see how all that destruction affected the general populace. Powerless looks to fill that void. 
While it is unclear how many superheroes will actually show up in Powerless, there will be no shortage of hints to famous DC characters like Batman, Superman and Wonder Woman. Only time will tell if comic book fans will engage in Powerless as they have with all the other more traditional superhero series. But what is for sure, is that NBC is offering us a peek into the world of DC Comics like we have never seen before. 
Synopsis and promo
In addition to Hudgens and Tudyk, the rest of Powerless' cast includes Danny Pudi, Christina Kirk and Ron Funches. Ahead of the series premiere, titled "Wayne or Lose," check out the synopsis for the episode below:
In a world where humanity must cope with the collateral damage of superheroes and supervillains, Emily Locke (Vanessa Hudgens) begins her first day as director of research and development for Wayne Security, a subsidiary of Wayne Enterprises that specializes in products that make defenseless bystanders feel a little safer. Full of confidence and big ideas, Emily quickly learns that her expectations far exceed those of her new boss Van Wayne (Alan Tudyk) and officemates, so it will be up to her to lead the team toward their full potential and the realization that you don't need superpowers to be a hero. Danny Pudi, Christina Kirk and Ron Funches also star.
Need a little more to hold you over before the series premiere? Here is the official trailer for Powerless. 
Powerless airs Thursdays at 8:30 p.m. Eastern on NBC. 
Mic has ongoing coverage of DC Comics. Please follow our main DC Comics hub here.