Yemeni-Americans to shut down New York City bodegas in protest of Trump's Muslim ban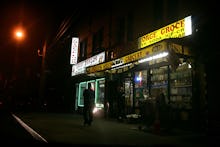 New York City's Yemeni-American bodega owners will shutter their shops at noon Thursday in an act of protest against President Donald Trump's recently imposed travel ban on Muslims. 
According to a Facebook page associated with the protest, an estimated 1,000 stores are expected to close across all five New York boroughs from noon to 8 p.m. Thursday.
"Originally, we considered starting the shutdown at 8 a.m., but the grocers they made it clear they wouldn't be willing to close if that meant their regulars wouldn't get their morning coffee," Debbie Almontaser, board member of the Muslim Community Network and one of the rally organizers, said in a press release. 
"Even when their lives have been turned upside down, they refused to disrupt the lives of the very people they serve daily."
The protest's Facebook page also notes that the event is meant as a "public show of the vital role these grocers and their players in New York's economic and social fabric."
For Yemen, a country that has been beleaguered by a civil war since 2015, a travel ban on refugees and immigrants permitted to enter the United States is a devastating blow.  
At a rally scheduled for 5:15 p.m. Thursday at Brooklyn Borough Hall, 209 Joralemon St., Yemeni New Yorkers plan share stories of how the ban stands to impact their lives stateside, as well as the lives of their countrymen.