Meet Chanabana, the brand trying to redefine modest activewear with running dresses and skirts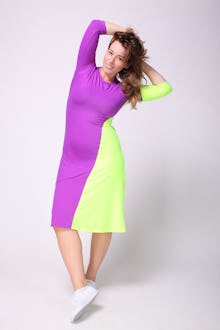 Modest fashion has had a bit of a renaissance as of late. Dolce and Gabbana released its own line of hijabs. Uniqlo launched collections of not just hijabs but modest clothing too, with long-sleeve shirts and skirts. And then there were brands like DKNY and Mango that released modest collections in time for Ramadan. 
But amid all this progress, one realm of fashion remained rather untouched by this modest revolution: Athleisure. 
And that's exactly what the founder and designer of Chanabana, Chana Rachel Weinberg, thought too. 
"I have always loved running," Weinberg, who was born in Pennsylvania but currently lives in Tel Aviv, said in an interview. "When I came back to Israel for my final year of fashion school I was in a period in life where I was reassessing my religious lifestyle and suddenly found myself with nothing to wear for my running regiment." 
Although there are brands like Veil, which offer longer modest athletic shirts and shirts with a hijab attached too, Weinberg wanted to address the issue of wanting to wear looser skirts or dresses when she runs, because she is an observant Jew. 
"This is how I came up with my first running dress, which was made of white stripes running along the back and front and black mesh on the sleeves," Weinberg said. "After that I came up with the running skirt, and matching running set, and since then the line continues to expand." 
Currently on Chanabana's website, there are running dresses, running skirts, jackets and even swimming dresses and skirts, all meant to help women who choose to dress modestly not only by giving them options in terms of length and fabric and fit, but also colors. 
To Weinberg, so much modest clothing seems dark and dowdy, so she made sure to include bright colors and fabrics to appeal to younger buyers. 
"In modest athleisure its important to consider function. We can dress as modestly and fashionably as we like, but if the outfit isn't made for wear and tear its no good," Weinberg said. "Its important to feel comfortable in the colors and lengths, and if you prefer wearing one size bigger thats also an option. At Chanabana the customer can choose between five different colors and four different lengths, to their liking."
And according to Weinberg, her customers are not just women like her. 
"I've been getting positive feedback from both religious and nonreligious women," she said. "Fuller women have also been showing an interest, because its flattering for larger figures and available up to size XXXL." 
With a goal of giving women who want to dress more modestly, Weinberg seems well on her way to fully accomplishing her mission.