5 songs you didn't know Lady Gaga wrote for other artists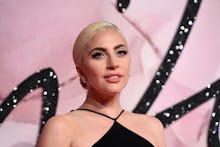 Lady Gaga will undergo a pop icon rite of passage this weekend as she headlines the Super Bowl 51 halftime show at Houston's NRG Stadium. The singer has paid her dues over the years, as she's been at the head of many iconic pop moments leading up to this big moment. 
Since her debut album, The Fame, Gaga has intertwined fantasy into her music in a way that's brought excitement to the pop landscape and inspired a legion of fans she calls her "Little Monsters." And her talent goes beyond the stage: She penned many of the songs on her albums, including her hits "Just Dance," "Poker Face" and "Paparazzi."
But before the No. 1 hits, platinum-selling albums and A-list collaborations, Gaga was a behind-the-scenes creative signed as a songwriter to Interscope Records. In the early years after she was given her big break by Akon, who signed her to his label Kon Live, Lady Gaga gave several artists songs for their own albums. 
Here are five hit songs that Lady Gaga wrote for other artists:
"Fever," Adam Lambert
In 2009, Lady Gaga was recruited to write a record for American Idol alum Adam Lambert. It turned out she had something up her sleeve that she'd wrote for herself but never recorded. 
"I couldn't get it right with me doing it, and I said, 'Gosh, it would be perfect for him,'" Gaga told Dallas radio station KISS 106.1 in an interview, according to MTV.
"Hypnotico," Jennifer Lopez
Gaga penned a song for Jennifer Lopez's 2011 album, Love?, called "Hypnotico." 
"She's a great songwriter: I don't just love her lyrics, but also her melodies," Lopez told Rolling Stone in 2011.
"Chillin," Wale feat. Lady Gaga
Lady Gaga not only lent vocals to Wale's "Chillin" — she also wrote the song's hook. 
"I really wanted to sit down with Wale before I wrote the hook," she told MTV in 2009. "Because to me, it's really lame when people send you tracks, and they're like, 'All right, Gaga, throw your vocals on it.' This is Wale's record. It's not my record."
"Murder My Heart," Michael Bolton
Right before Lady Gaga blew up as a star, Michael Bolton had a chance to work with her on his 2009 song "Murder My Heart."
"I was taking a break from production when my manager and the label tag-teamed me on the phone about writing with a young artist named 'Lady Gaga,' who I had never heard of — but they were raving about," Bolton told Metro. "They said that she was a huge fan of mine and wanted to write with me."
"Full Service," New Kids on the Block feat. New Edition
For Lady Gaga, working with '80s pop group New Kids on the Block was a dream come true. She's credited as a songwriter for the song "Full Service" from their 2008 album The Block, which features New Edition.
"So genuinely they are brilliant. I mean, I don't know what preconceived notions people have about pop and boy bands, but these guys are so the real deal that it's nauseating," she told MTV in 2008.
Mic has ongoing Lady Gaga music coverage. Please follow our main Lady Gaga hub here.