Here's why Twenty One Pilots stripped to their underwear for their Grammys acceptance speech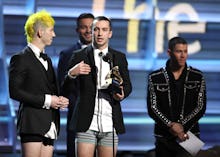 On Sunday night, Twenty One Pilots won the Grammy award for best pop duo/group performance for its song "Stressed Out," beating out other nominees like Rihanna's "Work," featuring Drake, and "Cheap Thrills" by Sia, featuring Sean Paul. 
The band members ran to the stage to accept their award but not before taking off their pants at their seats. Tyler Joseph began the band's acceptance speech, on behalf of him and fellow member Josh Dun, by sharing a touching story to make it clear why they were in their boxers.
"This story starts in Columbus, Ohio. It was a few years ago. And it was before Josh and I were able to make money playing music," Joseph started the speech and shared a memory of when he invited Josh over to watch the Grammys with his roommates. 
"As we were watching, we noticed every single one of us were in our underwear," Joseph continued. "Josh turned to me, and we were no one at that time, and said to me, 'If we ever go to the Grammys. If we ever win a Grammy. We should receive it just like this.'" And so they did. 
"Anyone from anywhere can do anything. And this is that," Joseph ended his sweet acceptance speech, holding the band's Grammy up.