Arnold Schwarzenegger just slammed Donald Trump over his latest 'Apprentice' dig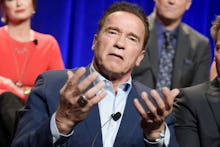 Former California Gov. Arnold Schwarzenegger on Thursday issued a swift comeback to President Donald Trump's National Prayer Breakfast attack, bashing Trump as being qualified to host a television show — but not to lead the free world. 
"Hey Donald, I have a great idea, why don't we switch jobs," Schwarzengger said in a video message posted to Twitter. "You take over TV, because you're such an expert in ratings, and I take over your job and then people can finally sleep comfortably again."
Schwarzenegger's comeback came less than an hour after Trump attacked him at the prayer breakfast, where he asked attendees to pray for Schwarzenegger's ratings on the successor to his successful Celebrity Apprentice show.
"We had tremendous success on The Apprentice, and when I ran for president I had to leave the show, that's when I knew for sure I was doing it," Trump told the crowd on Thursday. "And they hired a big, big movie star, Arnold Schwarzenegger, to take my place. And we know how that turned out. The ratings went right down the tubes, it's been a total disaster, and Mark [Burnett] will never, ever, bet against Trump again. And I want to just pray for Arnold, if we can, for those ratings."
Trump has picked a fight with Schwarzenegger before: In January, the president also attacked Schwarzenegger's ratings, prompting Schwarzenegger to issue an eloquent comeback.