'Overwatch' Events 2017: 4 predictions for what updates may be on the way later this year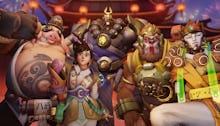 In a recent developer update video, Overwatch director Jeff Kaplan laid out vague plans for what 2017 has in store for Blizzard's popular multiplayer shooter. The most intriguing of his comments had to do with the Overwatch team's plans for 2017's seasonal events, like Year of the Rooster, Winter Wonderland and Halloween Terror.
In the video, he notes that the seasonal events are among the Overwatch team's favorite things to plan, saying the fandom should expect even more in 2017 — and specifically that there are several planned around "surprising" and unexpected events.
The Year of the Rooster event ends on Feb. 13 — and Kaplan has since shot down the possibility of Valentine's Day or Easter-themed events — but that still leaves a majority of the year open to speculation. Let's discuss what the Overwatch team might have in store.
Overwatch Events 2017: White Day
Yes, Kaplan definitively said there wouldn't be a Valentine's Day event, but he didn't say anything about White Day, the follow-up to Valentine's Day celebrated in a handful of Asian countries, but most closely associated with Japan.
White Day occurs one month after Valentine's Day, on March 14. It typically involves men giving gifts to women as a thank you or reciprocation for the gifts they received on Valentine's Day.
There are a few clues that a White Day event might be on the way. First, it would be a smart way for Blizzard to continue its streak of globally-themed events, integrating some Valentine's Day iconography without having it butt up right against the Year of the Rooster event.
Also, Overwatch's two Japanese characters — Hanzo and Genji — were conspicuously left out of the Year of the Rooster event in terms of skins and other cosmetic items. It's possible Blizzard is holding back because they have some cool things in store for them on White Day — Cupid Hanzo, anyone?
Lastly, some fans say they have already uncovered some voice lines hiding within Overwatch that hint at an exchange of chocolates between Mercy and Genji. It's possible these voice lines will emerge around Valentine's Day, but it's also possible they're going to pop up around a White Day event.
Overwatch Events 2017: Spring or summer break
This event wouldn't be an observation of a particular holiday, but more of a celebration of the spring or summer season tied to when students are typically let out of school. This would allow Blizzard to have a bunch of fun, summer-themed skins, like casual, silly beach clothes.
Overwatch Events 2017: Women's History Month or LGBTQ Pride Month
Overwatch has long been praised for its diverse, inclusive cast — including the recent revelation that Tracer identifies as a lesbian. So it's possible Blizzard might double down on that reputation with an event that celebrates Women's History Month or LGBTQ Pride Month, which occur in March and June, respectively.
A Women's History Month event could feature a ladies-only brawl and unveil a bunch of cool new skins for the female characters in its roster. Similarly, an LGBTQ Pride event could be linked to the coming out of another one of Overwatch's characters. Blizzard has said that multiple heroes identify as LGBTQ. So tying those reveals to another event might be the way to go.
Overwatch Events 2017: FIFA Confederations Cup
The very first seasonal Overwatch event was the Olympics-themed Summer Games, so it's possible Blizzard might have another big sports-themed event on the way. Since the Super Bowl is already nearly upon us, Blizzard could be setting its sights on a different big sporting event: The FIFA Confederations Cup, which starts in June as a lead-up to the World Cup in 2018.
Of course, if there is an Overwatch event tie-in, it almost certainly won't actually be called the Confederations Cup, and will instead be a generic, store brand variation, like Fútbol Frenzy or something.
It'd also be a good opportunity for Blizzard to bring back Lúcioball, the Rocket League-inspired brawl.
Overwatch Events 2017: Some kind of shake-up within the game itself
It's also possible that Overwatch might take one or more of its seasonal events in a totally different direction, basing it not on a real-world holiday but on something that's happening within the Overwatch universe itself. 
For example, there might be a temporary event centered around another Omnic uprising or around some kind of political upheaval related to what's been teased in Sombra's animated short. During this event, the Volskaya map might get modified to look like a war zone, for example. 
Thus far, the fiction and the gameplay of Overwatch have been relatively independent of one another, but an event like this would be a good opportunity for Blizzard to shake up the fiction of the Overwatch world, shifting the alliances of its characters and possibly uniting them against a common enemy — at least, for a bit.
More Overwatch news and updates
For more on Overwatch, check out the rest of what Mic has to offer. Here is a look at a very funny, but naughty meme on the Overwatch subreddit, an interview with the creator of an awesome new Overwatch zine, the full patch notes for Overwatch version 2.03, a full explanation of the different types of health in Overwatch, the latest rumor of a Terry Crews-voiced Overwatch character, our definitive ranking of every Overwatch hero, a roundup of awesome gender-bent Overwatch cosplay and a giant Overwatch FAQ for beginners.